Meet Nadir, Our Food Truck Friend
Lexi Ling, Graphic Designer, Staff Writer
January 25, 2019
"I love the kids, [laughs] and they love me too." Nadir Khan chatted with me while preparing my favorite sausage, egg, and cheese sandwich. You might not have been his customer, but you have definitely seen his friendly and hardworking face on the FSS plaza.
Every weekday, Nadir runs the food truck right outside the front door where many FSS students go for delicious hamburgers and sandwiches during break and lunch. Considered as a beloved community member by the students, Nadir's story, however, is hardly known.
Originally from Pakistan, Nadir immigrated to the U.S. around 30 years ago. No matter where he went, Nadir's love for food and cooking never changed, and he often prepared special meals for his family. Such interest drove him to pursue the food truck business in the U.S.
Nadir has worked here at the FSS front plaza for eight years now. His cooking is adored by the FSS students and faculty. One student called his cheesesteak a "masterpiece," while another said it is a "must-try". His popularity among the school often gathers long lines in front of the food truck.
Such success is built upon Nadir's routine of dedicated work. Nadir comes here at six every morning and finishes around two to three in the afternoon. His hard work goes to provide for his two daughters. One of them is a student at Community College of Philadelphia, while the other is pursuing a master's degree.
Beyond the food, Nadir is always up for a chat to refresh the day with his cheerful voice. Long-lasting friendships have formed upon these warm interactions. When asked about the relationship with the FSS community, Nadir responded with affection. "I love the people, above all, socializing with the people."  Nadir grew particularly reminiscent and proud when he described his reencounters with FSS graduates who always stop by to say hi and exchange life updates.
Indeed, such a connection provides the FSS students with a valuable interaction beyond our campus. Next time you walk by Nadir, don't forget to get his recommended cheesesteak, or a simple "hello" will be greatly appreciated.

Hang on for a minute...we're trying to find some more stories you might like.
About the Contributor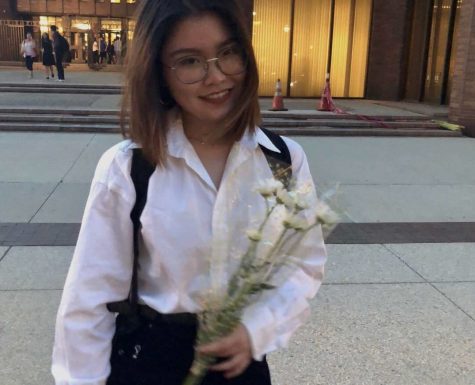 Lexi Ling, Multimedia Designer, Staff Writer
Hi, my name is Lexi Ling. I am an international student from China, and a member of the Friends Select School class of 2019. I love arts, particularly...