Film Modes Explored in Filmmaking
  For this assignment in our filmmaking class, we were given the choice of what kind of movie to make. There are generally three modes of filmmaking: narrative, documentary and experimental. Allura chose to make an experimental film, which disobeys the rules and conventions of narrative and documentary filmmaking. Allura recorded the rain outside her car as she drove home after school. She put these videos together and accompanied them with calm music. Similar to painting, dance, poetry or literature, experimental film has an emotional effect.
Allura Tarrant
Another mode is called documentary filmmaking. Documentaries are factual, non-fiction movies that talk about events, history, nature, or people. Dean chose to make a documentary film about his friend, and a new FSS student, Aaron from Beijing. Dean interviewed Aaron as his A-roll and shot some scenes about Aaron's school life for his movie's B-roll.
Dean Wang
Logan also chose to do a documentary film. His documentary followed his pets in a "mockumentary" style. He also dubbed voices in for them. I (Chloe) chose to make a short documentary on my classmate Christine.
Logan Burt
I recorded a normal morning of her life during a school day. However, when I added some creepy music during the editing of my film, I discovered the film could turn into a narrative film. Narrative films always have a protagonist and some overarching problems which the protagonist must confront. In our next assignment, we will be making a short narrative film together. Enjoy:
Chloe Zhang

Hang on for a minute...we're trying to find some more stories you might like.
About the Contributor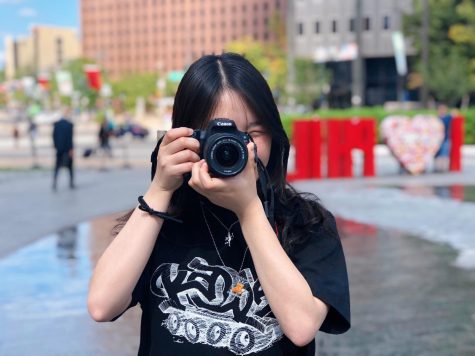 Chloe Zhang, Head of Graphics
Chloe is a senior in the class of 2020. She is a leader of The Falcon, in charge of photography and graphics. She loves photography, filmmaking and editing...