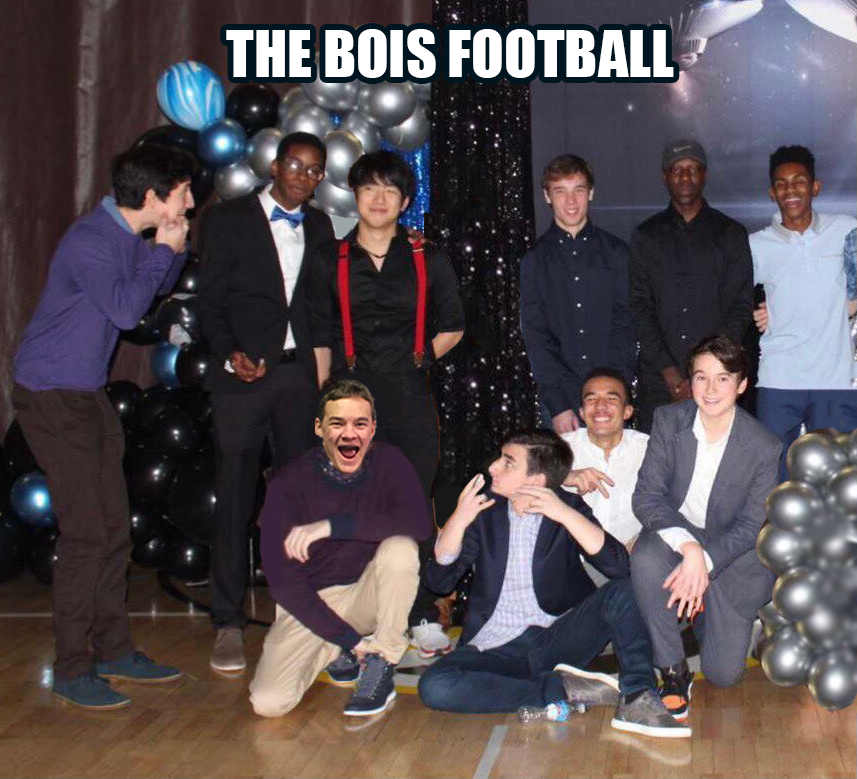 Despite the social disruption caused by the COVID-19 pandemic, nine boys in the class of 2022 are staying in touch through a classic form of entertainment: an active and competitive fantasy football league.
Their league, known informally as "The Bois League," was founded last year after a few friends expressed interest in playing fantasy football together. T.J. Hampton '22 currently presides as commissioner, which gives him the power to edit league rules, manage schedules, and accelerate roster changes. Although T.J. is the leader, Asa Johnson '22 credits himself as the league's founder: "around last fall I mentioned the idea of making a fantasy league and everyone thought it was cool and hopped on board," he says.
The Bois League is made up of ten members of the class of 2022: T.J., Asa, Zion Todd, Coleman Wampler, Lucas Kim, Aidan Bobb, Henry Fogg, Ian Lamont, Zachary Levine, and Stefan Widdicombe. Unable to watch together in person, they keep in touch over text and social media. "We have a league group chat that is very active during games, and sometimes we are on facetime. The majority of our talks consists of trade discussions and yelling at our quarterbacks for throwing interceptions," says Asa.
The Bois League community remains active once games have ended. "We constantly chat about football players and different games happening," says T.J. Injuries, lineup changes, and unconventional matchups provide constant topics for conversation.
Zion is The Bois League's reigning champion, but sits in last place for the 2020 season. "I felt like I had a solid team last year and won out in the playoffs," he says. However, winning the league "did mean I had the last pick in this year's draft which wasn't great because my team is struggling."
As of Sunday, October 18th, four players (T.J., Coleman, Aidan, and Lucas) are tied for first place with three wins and two losses. The current favorite to win this year's championship is either T.J. or Coleman, according to league consensus. "At the moment Coleman's team is the best right now. Alvin Kamara has been carrying his team," says Lucas.
Although T.J. is The Bois League's official leader, each member pointed to Henry Fogg as the league's most active participant. "Henry is a big figure in the group because of how invested he is. He talks a lot during games screaming about how bad his players are," says Lucas.
Especially at a time when students cannot see half of their classmates, The Bois League provides active community and a sense of normalcy. Fantasy Football gives these ten juniors a chance to compete and crack jokes like they have in years past. "The amount of passion that each member has for the league and their team makes our league grow outside of just a fantasy football league. We all have competitive spirits and are motivated to win the championship," says Asa.