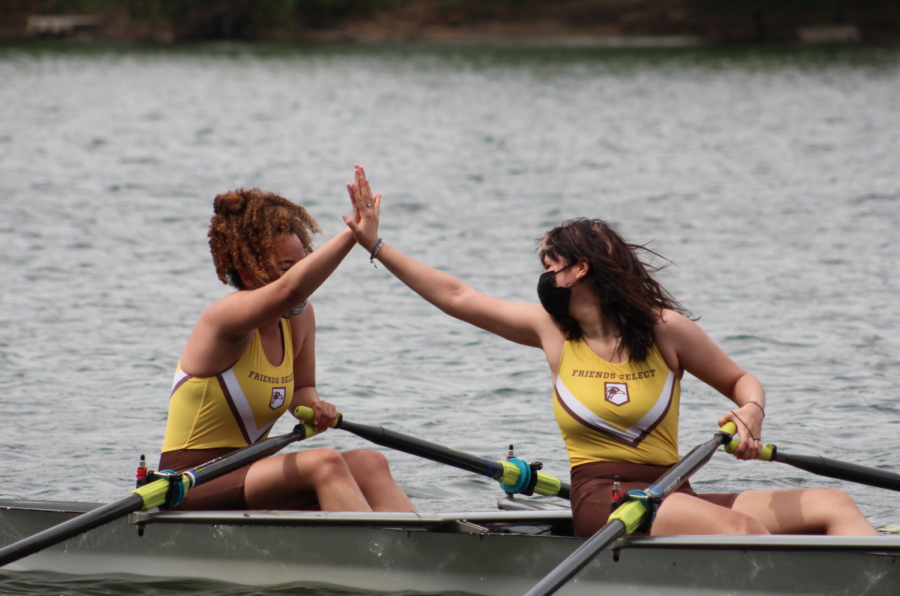 This crew season, 16 athletes practiced 5 days a week with races on Sundays. The season consisted of 3 Manny Flicks (races run by the Philadelphia Scholastic Rowing Association), the City's Regatta, and the Stotesbury Regatta Cup. New Head Coach Amy Messersmith describes the crew team's 2021 season as "short, sweet, and wet (for those who went swimming)."
The season was based around the principles of "communication, contribution, and improvements in performance," says Amy. The beginning of the season involved outlining training plans, going over expectations, and asking for input from the team about goals and "what they considered fun;" these conversations were used to guide the rest of the season.
As a brand new rower, Rafi Foster '24 not only thoroughly enjoyed his first crew season but was also able to see his own improvements. He began with a "rocky start," but was able to correct his technique issues through practice: "It was not what I expected at all… it's a really cool experience to actually be on the river and get a beautiful view of everything. I think the biggest thing that I didn't expect was how many pieces to rowing there are, because it looks way simpler than it actually is," he notes.
Laine May '22 says that this was a season full of change for her, as this year involved trying rowing in a double and a single for the first time. Sophie Saint-Cyr '22 also tried out a new position of bowing, or steering the boat, and after some initial apprehension, ended up "[growing] into it."
"I think the change in coaches affected our rowing quite a bit," explains Sophie. While the team's previous coach placed training emphasis on individual performance, Amy prioritized rowing as a team. "I think the change in styles did our team really well this season," Sophie says, adding that she hopes to see a bit more of the discipline enforced in past years incorporated into future seasons.
Amy utilized "done lists" as a tool to celebrate the rowers' successes as student-athletes this season. "When training meets competition, life's tasks pile up and we all feel the stress," she notes. The crew team specifically felt this sentiment, being a sport that requires consistent attendance to function. Each athlete was asked to share a done list, consisting of what they had been able to accomplish in that week. "It gave us new insights to understanding who we are beyond the boathouse… it is a reminder to check in with yourself, and to remember that you are capable of overcoming stresses on the path to success," Amy shares.
The junior girls' lightweight quad, consisting of Laine, Sophie, Alex Piven '22, and Madeline Squires '22, made it to the semifinals of the Stotesbury Regatta Cup this year, even while participating in a senior event with "girls twice their size," says Amy. They placed 12th out of 22 teams.
Though she wasn't really expecting it, Laine attributes her quad's success to modifying and closely sticking to their race plan, rowing at a "slow rate but [with] fast pressure… at [Stotesbury], we had a pretty controlled row."
"We've raced together since freshman year when we were novices, and now that we are juniors, I feel that we have definitely grown closer and learned to work together as one unit," notes Madeline. Alex explains that the four of them have learned to push and learn from one another. Sophie adds that all four of them are in Advanced Chemistry together, so they have worked together both in and out of the boat
Laine recalls some of her highlights from the season as "the chaoticness of trying to switch seats while in the boat and not falling in the river, seeing Perry kayaking, or just the whole crew team's hilarious atmosphere."
Though some rowers endured challenges throughout the season, Amy summarizes: "The consistent willingness of these rowers to show up and work for what they wanted contributed to their progress. They made time for what mattered to them."
FSS Girls' Jr. Lightweight Quad during a race. Courtesy of FSS Parent.