Featured Artist: Poli Sotnik-Platt
Poli Sotnik-Platt is a senior at Friends Select with a passion for just about everything creative. "I honestly enjoy every type of art; if I'm creating something then I'm happy," she says. Some of the mediums Poli has worked in include painting, linoleum carving and book binding. "I can't remember a time that I wasn't constantly doing art. It's not really something I can separate out from the rest of my life; it's such a huge part of me and my identity," she says.
While Poli's love of art hasn't decreased, she acknowledges that as she's gotten older she's found it harder to make time for her art. "Since high school, I've slowed down a bit. I think it can be really hard to access that part of your brain that just kinda spouted creativity constantly when you were a kid, and it takes more effort now to really put in the work and devotion to art," she says. 
Although Poli feels that she isn't as artistically productive as she used to be, she's determined to keep exercising her creativity. "I find that when I don't do art for a while I get out of practice using my creativity, so I try to make art as much as possible, even if that just means doodling in class." 
One of the ways Poli stays creatively active is by taking classes outside of school. "I do as many programs outside of school as I can get my greedy hands on," she says. Poli has taken extracurricular classes at UArts, Tyler School of Art, and PAFA; these programs are open to interested local high school artists. 
Poli credits Deborah Caiola for introducing her to these classes, and encourages other aspiring artists to speak to her if they're curious about extra-curricular opportunities in the arts. "It's super easy to get involved and there are classes for all sorts of different things like bookbinding, drawing and painting, sculpture… you name it," she says.
Right now, Poli is devoting most of her attention to preparing her portfolio for college, as there are a couple colleges she plans to apply to. "I'm mostly focusing on getting into Parsons and RISD," she says. "I also really like the recent changes within the Penn undergraduate art department, so I'm looking there as well." 
As for what she'll do after college, Poli admits she is still somewhat unsure. "Hopefully something creative will be in my future! I'm not too picky about what that is though. I was honestly just thinking that I'll figure it out once I get to college," she says. The only thing she's certain of is that whatever she decides to pursue will involve art. "It's just part of me, there's no other way for me to exist unless I'm making art."
About the Writer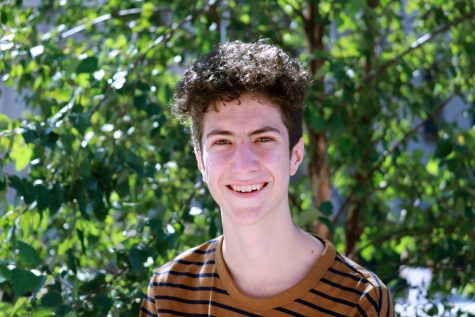 Gabe Tarini, Editor: Arts & Culture
Gabe Tarini is a member of the Friends Select School class of 2021. In addition to his role with The Falcon, Gabe also works with the school's literary...