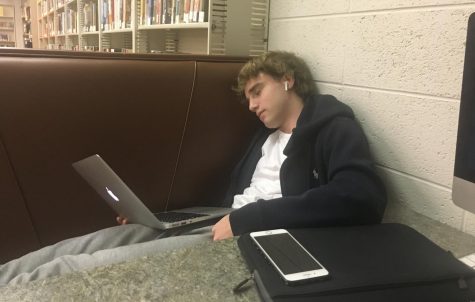 Carlos Eckert, Staff Writer

April 2, 2019
        It's 5:59 in the morning, the sun is beginning to rise, and you are in a deep sleep. The night before you got home at 9:00 from work and started your homework while you ate spaghetti. Upon finishing your homework you checked your watch and it read 12:13 A.M. You immediately went to sleep. ...
January 8, 2019

Filed under Multimedia, Opinion, Showcase
"I think students' voices are important," Upper School Director Chris Singler said. However, student voice matters only if students' voices are heard. Now there is a chance for everyone's voice to be heard! The Falcon is looking for insightful thinkers to write opinion and commentary for the school's ne...
Friday, May 3

Varsity Softball

Friends Select School 14 - Germantown Friends 1

Friday, May 3

Varsity Baseball

Friends Select School 0 - George School 14

Thursday, May 2

Varsity Softball

Friends Select School 6 - George School 4

Wednesday, May 1

Boys Varsity Tennis

Friends Select School 0 - George School 5

Wednesday, May 1

Varsity Baseball

Friends Select School 11 - Jack M. Barrack Hebrew School 1

Tuesday, April 30

Varsity Softball

Friends Select School 13 - Abington Friends 1

Monday, April 29

Varsity Baseball

Friends Select School 5 - Morrisville 1

Monday, April 29

Varsity Softball

Friends Select School 16 - Little Flower 0

Friday, April 26

Varsity Softball

Friends Select School 19 - Westtown 1

Tuesday, April 23

Varsity Baseball

Friends Select School 2 - Westtown 9