Cast and Crew Optimistic About Fall Play
The final stretch of any theatre production is always stressful, but the cast and crew of Metamorphoses are comparatively at ease, despite the rapidly approaching opening night (November 15th).  "I think we're right on track for where we should be," says senior Michaela Fineman. 
The students attribute much of this productivity to the attitudes of their peers. "They're all extremely nice people," Adrian Calwell '23 says of his fellow cast members. "The community has been really great," agrees Elena Milliken '21. 
Mary Zimmerman's Metamorphoses is a collection of Greek myths. These seemingly disconnected stories are joined through the show's primary set piece: a wooden deck with a pool of water. "I think compared to other plays we've done, this is one of the better ones. It's a lot more put together," says Michaela. 
As the play unfolds, each story utilizes this pool in different ways to enhance the themes of the play. "You can draw a lot of different morals from each story," says Freeman Rabb '21. Elena added: "It's kind of a modernization of Greek myths. (It's) presenting them in a way that's easier for people our age to relate to," says Elena.
Since the play consists of multiple isolated stories, it boasts a massive assortment of characters, with roughly fifty roles divided among fourteen cast members. Playing multiple characters has pushed the actors creatively. "I've never been a bad dude. It was hard to justify how to walk like them, talk like them," says Adrian
Max Budnick and students in stage crew and the Technically Theatre class finished the construction of the deck and pool two weeks ago, and installed it on the stage. They also recently finished the backdrop for the show: a massive painting of a cloudy sky presented in an intricate golden frame.  
The costume team, lead by Bella Iannozzi '20, has also been moving along at a good pace. "There's a few things we (still) have to do, but I'm pretty sure we can get them done in the time we have," says Lekha Doddamani '22.
Tech week officially began on Monday, and with it came the cast's first time using costumes and microphones. Despite the plethora of new challenges posed by these additions, the cast and crew  managed to complete an entire run though. "I don't think any of us expected it to go as well as it did," says director Ashley Kerns. 
The cast and crew of Metamorphoses have less than a week to put their finishing touches on this year's fall play, but they're confident they'll be able to and look forward to finally performing. "We're going to do a good show," says Adrian. "It's going to be incredible and people are going to enjoy it."
About the Writer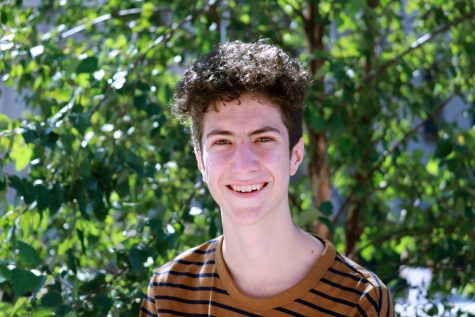 Gabe Tarini, Editor: Arts & Culture
Gabe Tarini is a member of the Friends Select School class of 2021. In addition to his role with The Falcon, Gabe also works with the school's literary...