FSS Art Show Review: Highlighting the Individual
Friends Select states that its mission is to "balance between the individual and the community." The current art show on display in the front hall, exhibiting art made by members of the class of 2020, accomplishes this ideal wonderfully: each portfolio prep
student is given a full wall to present their art across a variety of mediums. Although visitors may be immediately drawn to Sofia Rodriguez-Burno's intricate mosaic self-portrait or Elisa Liu's detailed paintings of animal-human interactions, the most striking work in each student's exhibit is each student's written statement describing their personal relationship with their artwork. 
It is clear from these statements that although Friends Select artists share some common artistic viewpoints from their art education, they each retain immense individuality in their work. Where Marina Garagozzo uses her artwork to express herself and her spirituality, Sophia Becker uses hers to explore real world political issues. Where Elisa develops a close connection to animals through her artwork, Felicia Liu creates personal depictions of the human members of her community. As a Friends Select student, it is impressive and inspiring to see that my fellow students think so creatively and differently when presented with the same projects and assignments. 
The artist's statements also give viewers deep insight into the artistic development of the creators. Each student describes their evolution as an artist and uses their work to show the culmination of that process. Both the statements and the artwork capture each artist's deep appreciation for the light and creativity art brings into their lives; Felicia summarized the general mood of the exhibit quite nicely when she wrote "Art showed up in my life without an invitation, but as soon as I saw her, I wanted to keep her by my side forever."
One piece in the show that I especially enjoyed was Felicia's sketch of a corner shelf in the drawing and painting studio in 1700. The sketch gives a certain level of detail and intimacy to a part of the school building that is often overlooked. On a deeper level, Felicia's sketch shows us how complex small parts of our lives can be without our ever noticing; there are a plethora of trifles we see everyday that we think nothing of but become routine parts of our lives.
While the vast space provided by this show does give the Portfolio students involved an excellent opportunity to display their entire body of work, I would have liked to see art from all upper school classes included in the show. As a student who does not take a visual art and spends limited time in 1700, I do not always have the chance to interact with student artwork, and I would be interested to see a greater variety of work from the student body. Perhaps new artwork from students in the classes of 2021, 2022, and 2023 could be placed in the upper school hallway where the work of former art students currently resides.
About the Writer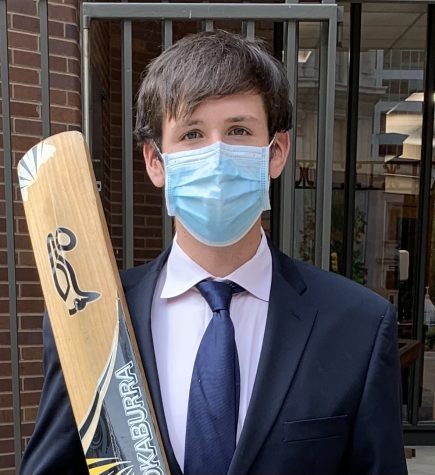 Peter Ryan, Editor-in-Chief
Peter Ryan is a senior at Friends Select School. He currently serves as President of Student Government, Co-Clerk of QUAKE, and founding leader of Cricket...