World Cafe Live Concert Tonight!
On Tuesday, March 10th, the Friends Select Upper School Music Program will make their annual performance at World Cafe Live in University City (3025 Walnut St, Philadelphia, PA). The concert will feature the FSS Instrumental Ensemble, Percussion Ensemble, Choir, Lab Band, and a number of independent student acts. 
For the first time ever, the concert will have a theme: the music of David Bowie. Five Bowie songs will make up the show's closing medley, performed together by the Ensemble and Choir: Starman, Life on Mars, Space Oddity, Changes, and Lady Stardust. Student musicians will wear black t-shirts with a Bowie-inspired blue and orange accent, a departure from FSS Music's usual black and yellow color scheme.
World Cafe Live is unique from other FSS concerts in that it offers students a platform to perform independently in a formal setting. This year's concert has six scheduled indie acts: Bella Robinson '22 performing Praying by Kesha; Glee Club performing Someone You Loved by Lewis Capaldi; Tony Lian '21 and Charlie Chen '23 performing I Remember Clifford by Benny Golson; a performance by Adam Powley '20; Adam, Olivia Shuman '21, and Ethan Tarini '21 performing Back to Black by Amy Winehouse; and Snot Hostel (C.C. Servon '21 and Lewis Shaw '21) performing their original song Bear Grylls.
The Upper School Choir will open the concert with two songs: Bonse Aba and That Lonesome Road by James Taylor. Tuesday will be Choir Director Nathan Wadley's first show at World Cafe Live. Choir will also close the show with the Bowie medley.
Performing second is the Percussion Ensemble, which will play Photosynthesis, an original piece by teacher Dan Cappechi.
Along with the Bowie medley, the Instrumental Ensemble will play A Town with an Ocean View from the film Kiki's Delivery Service.
Like the Instrumental Ensemble, the Chamber Orchestra will play only one contemporary piece: Havana by Camila Cabello.
The concert is free, and all are encouraged to attend. Food and drinks are available for purchase at the venue.
About the Writer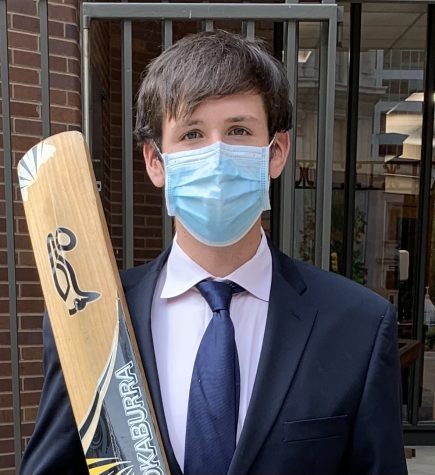 Peter Ryan, Editor-in-Chief
Peter Ryan is a senior at Friends Select School. He currently serves as President of Student Government, Co-Clerk of QUAKE, and founding leader of Cricket...