Street Art of Philadelphia
Walls of Northern Liberties
By Izzy Ebede
Before March 2020, my neighborhood was a place where I merely slept and ate. The exhaustion that came over me after every busy week made me forget about all of the amazing things Northern Liberties has to offer. My indifference vanished, however, once the coronavirus pandemic hit the city of Philadelphia. Without a structured daily routine, I longed to partake in an activity that was neither online school nor FaceTiming friends whom I missed greatly. One day, I decided that I was just going to take a stroll around my great neighborhood of Northern Liberties. After only walking a few blocks, I felt guilty for not appreciating my home previously. The beautiful street art that was displayed on virtually every corner reminded me of why my family moved to No-Libs back in 2013. Every painting on a wall, the side of someone's house, or a fence told a unique story that was unique to Northern Liberties.
While there are many amazing artworks throughout my neighborhood, I wanted to focus on the walls in particular because those caught my eye the most. The photos I chose are all within a three-block radius, but there are so many more to be looked at and appreciated throughout the neighborhood!
---
Street Art All Around
By Isabelle Hills
Walking around the city, countless pieces of street art can be found. Although they might not be like works found in a museum, they are a creative, diverse form of expression. Graffiti and street art are sometimes associated with vandalism, but I think each of these pieces were intentionally made as art and to carry some powerful messages.
Some of them have more overt messaging than others, such as "Freedom Sculpture," which is meant to unite people by expressing the universal struggle for freedom. This sculpture shows human figures breaking free from the mold of the wall and coming to life. Zenos Frudakis captured so much emotion in their body language and the message that conveys is a very relatable one.
Some of them, on the other hand, take a more subtle approach to expressing a message. At first glance, the mural "Colorful Legacy" is a beautiful work of art, but this mural highlights the experiences of black men and boys today with references to past injustices juxtaposed with symbols that celebrate their culture and pride. The closer you look, the more you can see every intentional and meaningful detail.
Similar to colorful legacy, the "I am here" graffiti utilizes vibrant colors to capture viewers' attention. The overlap of different artists' work creates a sense of movement and shows the prolific nature of graffiti. This artist used typography, repetition, and color to highlight and express themselves within this vast landscape of artists.
Although the art of graffiti often uses the same medium, spray paint, they can have diverse visual impacts. The power of the piece on South Street is that it works with its surroundings. The blue in the typography matches the sky and the curve of the words matches the geometric lines of the roof. Unlike art that you might see on a canvas, the graffiti on south street utilizes the natural shape of the buildings to inform the work.
The stickers in Fishtown similarly make use of their surroundings. It's notable that they can be reproduced and could've been placed in a number of locations, but different locations provide different context for the viewer. These specific locations make them stand out and draw attention to them in a very accessible way. The Maya Angelou quote was placed on a bright yellow street sign and the Piccasso quote was placed on a pole with many other stickers. The simplicity with the stark white background contrasts the business around them, drawing attention and highlighting the individual messages.
Although all of these pieces were found in different contexts, they all come together by uniting people through sharing messages. Street art is a really important part of our urban environment and each piece adds to our collective experience as people in the city.
Sources:
http://www.zenosfrudakis.com/freedom-sculpture 
About the Writer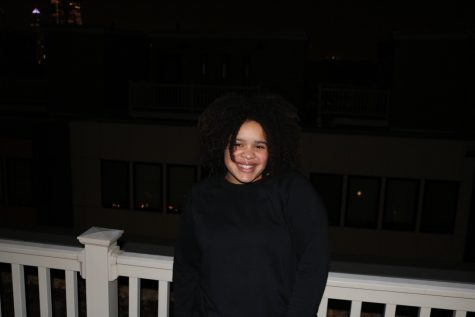 Izzy Ebede, Editor-in-Chief

Izzy Ebede is a member of the class of 2021 and has been at FSS since Pre-K. At school, she is active on sports teams throughout the year and leads Black...