Photo Series: Green Spaces Around School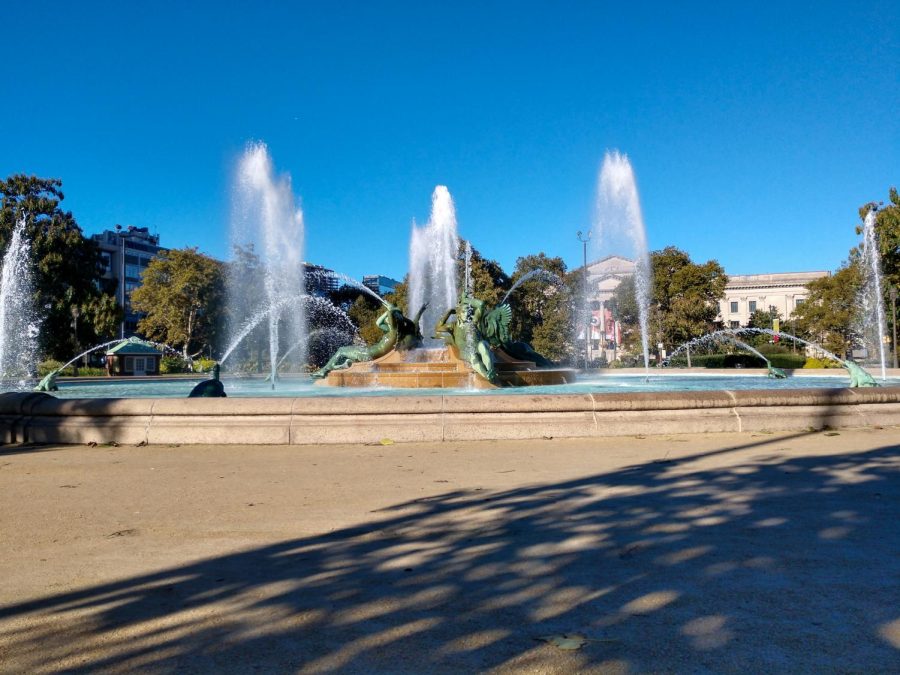 A major advantage Friends Select School has is its location in Center City. The city has many parks and green spaces within a walking distance of school that students can visit. Now with spring just around the corner, it might be a good idea to give these places a look. All travel times are based on Google Maps.
Logan Circle is one park close to our school that is popular amongst students; it's only a 5-minute walk away and is across the street from Sister Cities, another small café. Its main attraction is the elaborate fountain, which "represents the region's major waterways: the Delaware, Schuylkill, and Wissahickon".1 Logan Circle is also one of the five original squares planned in the city.
Collins Park (1707 Chestnut St) is a small green space right next to Liberty Place, which is about a 9-minute walk and a popular lunch destination for students. The park takes up less than half a block, nudged between an alley and Chestnut Street; but despite being a small space, it has a unique atmosphere. "It would be cool to see if there were more places like this around Philly", says Henry Planet '23.
The Rail Park, which is about 14 minutes away from school, is a recent project with the goal of "building a three-mile greenway…across ten neighborhoods" with the plan to run from Northern Liberties to Brewerytown2. Phase one of the park includes numerous places to sit that "offer the perfect place for park visitors to soak in the skyline view"3.
Even though the Schuylkill River Trail extends over 120 miles4, Friends Select is only 15 minutes away from a section that runs through Center City. The trail is also a very busy spot. "There were a lot of people running, some people walking their dogs…from time to time, there would be trains passing by," says Louise Li, '23. "It was very beautiful."
1https://www.visitphilly.com/areas/philadelphia-neighborhoods/logan-square/
2https://www.therailpark.org/vision/
3https://www.therailpark.org/visit/
Leave a Comment