Review: Big Fish at Upper Merion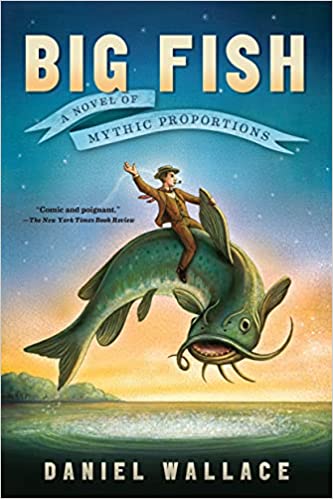 Emotion rippled through the sea of audience members at Upper Merion Area High School's production of Big Fish. The company phenomenally captured both the fantasy of the musical and the passion of the touching story.
Written by John August with music by Andrew Lippa, the musical is based on the novel by Daniel Wallace and the Columbia Motion Picture. Set in Alabama, the story shifts between two timelines. One in the present-day real world, where father, Edward Bloom, is faced with mortality while his son, Will Bloom, prepares to become a father himself. In the storybook past, the audience follows Edward's life as he encounters various fantastical beings, including his wife, Sandra. As time ticks by, Will tries to decipher the truth behind all his father's eccentric stories.
The cast of Upper Merion's production transported the audience straight into the storybook. The ensemble played a critical role in bringing this whimsical world to life. Fortunately, the performers were ready to give it their all, elevating large group numbers to lively heights, with energy and emotion till the final bow. The whole cast was comprised of strong vocalists, whose mixes filled the stage with vitality. Upper Merion excellently captured the drama of the compelling show with numbers like "Stranger" and "Daffodils".
Daniel Isajiw flawlessly embodied Edward Bloom as he led the show with considerable talent. His performance, anchored in brilliant acting and strong vocals, captivated the audience. He effortlessly switched between Edward's timeline and displayed the skill that went into bringing his character to life. Isajiw had remarkable chemistry with Michael Harding as Will Bloom. Their father-son relationship was lovable and genuine. From his heartfelt vocals to his technical execution, Harding provided an emotional core to the show. In addition to the Blooms, Colette Egan's excellent vocals as older Sandra shone through in the song "I Don't Need a Roof". The audience was engrossed in the Bloom family's heartwarming chemistry.
Further adding to the exceptional cast were beloved storybook characters like the Witch (Aileen Lutz). Her enchanting number "I Know What You Want" was brought to life with her dazzling vocals. As well as, the amiable giant, Karl (Anthony Boyle), who captured lots of laughs from the audience through his humorous deliveries. His heartfelt friendship with Edward was a notable aspect of the production.
The Upper Merion Stage Crew admirably executed the transitions between scenes, not a cue was missed. Most salient were the colorful lighting choices that animated the festive group numbers. The set for Big Fish was magical and intriguing, luring the audience into their wondrous world. Additionally, the Marketing team fantastically decorated to reflect the playful show.
The cast of Upper Merion's Big Fish, were truly the heroes of their story.
Leave a Comment