Squashing Expectations
John Larkin, Sports Editor, Staff Writer
January 24, 2019
There is a new sport in the Upper School, and it's squashing expectations.
The 2018-2019 winter season will be the inaugural season of Upper School Squash. Before diving into Friends Select Squash, we must first understand the basics of the sport of squash.
Squash is an indoor sport that is played on a 4-walled court. Like tennis, most matches are one player versus another, also called "singles." There are occasional "doubles" matches, which feature two players per team. A player will start a rally by serving a ball against the front wall; then the opposing player has to return the serve back against the front wall. After the initial serve and return, players can hit the ball against any wall on the court as long as it hits the front wall before bouncing on the floor twice. Breaking any of these rules awards your opponent one stroke (point). The goal of the game is to make it difficult for your opponent to play a shot back. A comparison would be tennis, only instead of hitting a ball over a net on an outdoor court, you're hitting a ball against a wall in an indoor, four-walled court.
Since few Friends schools have squash teams, Friends Select squash is not playing in a set league. They will play Shipley, Friends Central, Germantown Friends, along with other schools in the Philadelphia area.  
In addition to the obvious fitness benefits that squash offers, it looks great on any college application. When asked about the benefits of squash, James Asher, head coach of the Upper School squash team, said, "The amount of kids that play now is incredible. It's a great way for kids to get into college." Since squash is a somewhat uncommon sport, those participating get a unique activity to put on a college application to stand out more.  
In addition to all of the other benefits squash provides, it's also quite enjoyable. When asked about why she decided to play squash, Kate Young (Class of 2019) responded, "It's really fun, I'm good at it, and it's a great way to stay fit."
When asked about the future of the squash program, Bill Klose said, "I think the plan worked well. It built interest in the middle school. Those kids who are now sixth, seventh and eighth graders are interested in playing it through high school."
The addition of the varsity squash team has clearly squashed expectations.  

Hang on for a minute...we're trying to find some more stories you might like.
About the Writer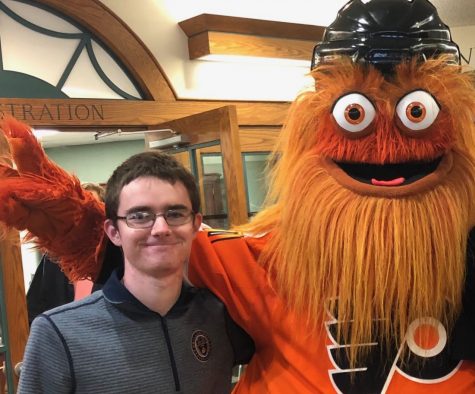 John Larkin, Sports Editor
John Larkin is a senior at Friends Select School, class of '19. In addition to writing for The Falcon, John has played soccer and basketball for the school....