All Classes Shine in Dominant Girls Basketball Victory
In one of their most dominant wins of the season, the Friends Select Falcons' Girls Basketball team defeated the Charter High School of Architecture and Design 61-36. The early portion of the game was defined by the Falcons' brutally aggressive press in the first quarter. Led by '19 forward Camryn Harvie and '20 guard Sophia Rodriguez-Bruno, the Falcons took a 30-6 lead by the end of the first quarter. Harvie finished with fourteen points and two steals, while Rodriguez-Bruno and '20 Hannah Sieg finished with ten and eight points, respectively.
From a neutral perspective, the game was fairly uneventful outside of the first quarter. However, for the team, the biggest takeaways from the game were strong showings from '22 Margot Schneider and Laine May, who played alongside each other for most of the second quarter. Although the Falcons led by twenty-four at the close of the first period, Schneider and May played the second with great intensity, finishing the quarter with a combined total of fourteen points and four steals.
One highlight from the game which will most likely be forgotten, on account of a missed shot, was an excellent offensive maneuver from '21 Maya Brand and '22 Simone Singler. Singler sent a crisp bounce pass to Brand before making herself open with a curling cut under the basket. Brand, who showed impressive awareness on the play, returned the ball to Singler. Unfortunately, the sequence did not result in a score for the Falcons, although the game was already well out of hand for CHAD.
In a departure from the fierce press of the first quarter, head coach Bill Klose elected to play a laid-back 2-3 zone defense in the late third and entire fourth quarter. This shift saw mixed results, as the Falcons started playing a zone with a 57-20 lead in hand, and finished with a 61-36 victory. This halt in scoring could also be attributed to a cooled-down Friends Select team who, in the later stages of the game, were mostly playing to run out the clock.
During an interview after the game, Klose was pleasantly surprised by just how successful his freshmen were on the stat sheet. Noting the team's recent struggle with absences due to illness, he admired the ease with which his freshmen had adjusted to the Falcons' offense. Friday afternoon provided an encouraging view of the strength of the present and future Friends Select Girls Basketball teams.
About the Contributor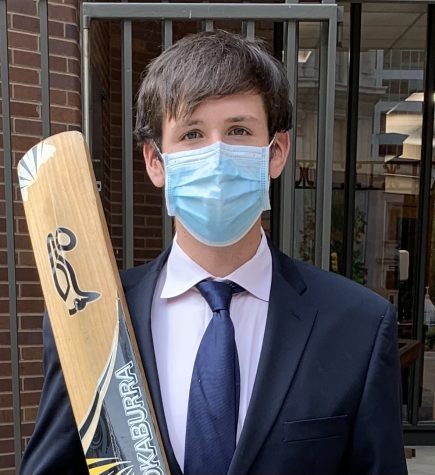 Peter Ryan, Editor-in-Chief
Peter Ryan is a senior at Friends Select School. He currently serves as President of Student Government, Co-Clerk of QUAKE, and founding leader of Cricket...