Alex Shapiro, Redefining Sports with the Right Attitude
Alex Shapiro '20 isn't your typical student-athlete. She doesn't love running or strenuous practices, and while she plays three varsity sports, she doesn't approach it from a competitive standpoint. Alex thinks, "It should be fun." 
As she's not very tall or fast, Alex never believed she was built to be athletic. Recently, that's changed. 
Just last year, she joined the girls' tennis team without any knowledge of the sport, hoping for an enjoyable season. She was welcomed with open arms. As a junior, Alex played doubles alongside Kate Young '19 and recalls that the season "just didn't go so well," and she "only won one match." 
This year, Alex and the team have done a complete 180, winning their first-ever league match against the Academy of the New Church. 
Game day was full of excitement. The girls arrived on the court in mismatched uniforms, unsure of their chances, but with each set, their confidence grew. 
Once singles players, Amelia Squires '22 and Madeline Squires '22, won their matches, they came to cheer Alex and doubles partner, Chloe Zhang '20, on. Halfway through, Alex asked her coach, "Could this be our first league win?" 
He said yes. Immediately, her light-hearted attitude turned to razor-sharp focus. She reminded herself, "We just have to win this set."
As teammates encouraged them from the sidelines, Alex and Chloe remained strong, battling it out for another set, and eventually bringing home a win for the team. 
Alex has truly grown into tennis. It's less than halfway through the season, and she has already won four matches, four times the amount she won last year. 
With only one year under her belt, Alex has taken on the role of team captain and has gained the trust and admiration of her teammates. Tal Lesnik '20, appreciates the "energy and spirit" Alex brings to every match and practice and says, "She's a natural leader."
If she could change anything about this season, Alex wishes people would pay more attention to tennis. "Sometimes, people forget the tennis team exists," she says. "While people don't talk about it very much or come to our matches, I hope everyone knows we have a team that works hard."
While she doesn't plan to play in college, she believes that "tennis is a lifelong sport." She's grown to love it and will continue to play for the rest of her life. 
In the past, Alex had difficulty blending her fun-loving attitude with sports but not anymore. Tennis is the perfect combination of two, and she hopes others can find that as well. "If you've never played tennis before and don't think you're very athletic but want to be on a team and have fun, Tennis is the sport for you."
Whether to watch the girls' tennis team, Alex in particular, or to just practice a few serves, take some time to head out to the courts and remember, like Alex, that sports aren't always about winning. They're also about fun.
About the Contributor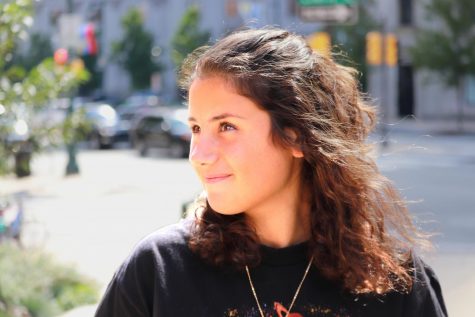 Zoe Tzanis, Editor-in-Chief
Zoe Tzanis is a senior at Friends Select enrolled in the Journalism class and serving as The Falcon Editor-in-Chief. She is interested in history and media...