Agoyo: Cross Country Star
Most people hate running, but Quaye Agoyo '22 is one of the exceptions. He runs on the Cross Country team, a sport where people typically run 2.5 to 7.5 miles each race.
Last year was Quaye's first year of Cross Country. He said he decided to try the sport because he enjoys running, and Cross Country seemed like the perfect way to stay in shape.  
Quaye remembers that many team members improved last year, and 5 people on the team were able to break 20 minute 5ks. 
To continue to build on that successful season, Quaye took the initiative to run consistently over the summer. He attended all of the preseason practices, and with the hiring of new head coach, Meg Waldron, Quaye is hopeful for the 2019 season.
So far, Quaye is content with how the season is playing out. He says that most runners are working hard to improve their times and the team's record remains similar to last year. The team had their first win on September 10th against Shipley.
Quaye says his biggest concern for the team is injuries, saying "Near the end of the season, people usually get lazy with taking care of their bodies and injuries begin to rise. People stop stretching and taking that extra step to make sure their bodies stay healthy."
Right now, the team is preparing to compete in the PAISAA State Championships on October 26th. To Quaye, this is the hardest race of the season because it takes place on Belmont Plateau.
Belmont Plateau features a ruthless hill named "parachute hill."  Quaye says that his whole season is based on how well he conquers that hill.  He shows up to practice every day with the mindset of crushing it.
One thing that Quaye wishes he could change about cross country is for more people to recognize the sport.  "Cross country is usually pushed to the side and not many people talk about it in the halls," he says. While cross country seems unappealing to many, it "builds character" and is "extremely helpful" in preparing for different sports that require conditioning.
He urges more people to try out cross country and not worry about whether they are "fast runners" or not.  He says that "people may grow to love it if they choose to stick it out."
About the Writer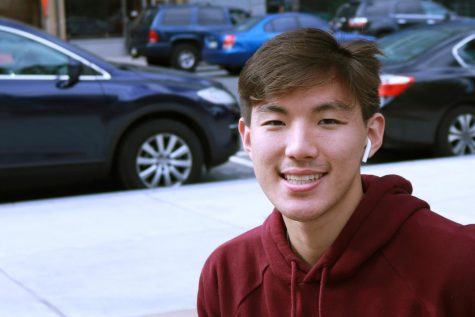 Dean Wang, Editor: Sports
Dean Wang, class of 2020, is in the journalism class and club.  He enjoys eating food and his biggest fear is using public restrooms.  You'll likely...