The College Football Playoff: Why it Won't Last
On Sunday, December 8th, the College Football Playoff Selection Committee announced that the LSU Tigers, Oklahoma Sooners, Clemson Tigers, and Ohio State Buckeyes will be the four teams to compete in the College Football Playoff on December 28th. Although these four teams have combined to play 52 football games this season, only Oklahoma has lost a game. It may seem extraordinary that teams have to be almost perfect to compete for a national championship, but this is commonplace in college football. This demanding criteria is what makes the College Football Playoff the best championship format in sports.
In Division I NCAA Football, each team plays 12 games in their regular season. Every team plays eight or nine games against teams in its conference and three or four games against opponents outside of its conference. At the end of the season, the two best teams in each conference play a championship game, usually played at a neutral site on the first Saturday of December. These conferences naturally evolved to be divided geographically; a team that wins its conference can claim itself to be the best team in its part of the country. 
Since its inception in 2014, the College Football Playoff Selection Committee has set the precedent that teams, with rare exception, must win their conferences to play in the College Football Playoff. Of the 24 teams to qualify for the College Football Playoff over the last six years, only two have failed to win their conference championships: Ohio State (2016) and Alabama (2017). These teams can hardly be considered normal cases; both were dominant in most of their regular season games and each only had one loss against a very high quality team. 
This means that each team playing in the College Football Playoff is already a champion in their own right. The regular season effectively acts as a regional playoff for one spot in a greater championship. At the beginning of the College Football Playoff, fans have little understanding of the relative strength of these conference champions: none of the playoff teams are proven to be better than any of the others.
This is not the case for any other major American sport. In each of our major professional sports leagues (NFL, NBA, MLB, and NHL) at least five teams from both conferences make the postseason, and 68 teams make the NCAA tournament in college basketball. 
In each professional league, this open format creates an insignificant regular season. In professional basketball, hockey, or football, a team can win only half of its games and still compete in the playoffs. This gives teams little incentive to try their hardest in the regular season, which cheats fans of high quality play for the majority of the season.
Additionally, letting mediocre teams into the playoff often means that the league champion is nowhere near the best team. Just this year, the Washington Nationals won the World Series after winning just 57.4% of their games, while the Houston Astros and Los Angeles Dodgers won 66.1% and 65.4% of their games, respectively. The Toronto Raptors won the 2019 NBA Finals even though they finished two games behind its conference rival Milwaukee Bucks, having lost twice to them earlier in the season. The Connecticut Huskies won the 2014 Final Four even though they were not one of the top 25 teams in the regular season. 
In all of these sports, watching an inferior team win a championship after finding their groove at the right time leaves the end of the season feeling hollow and anti-climactic. The format of the College Football Playoff prevents this; a team with a "weak" resume will never play for a Division I championship under the current rules. Six years in, the "weakest" team to make the Playoff was the 2016 Ohio State team, which won two road games against ranked opponents, beat an elite Michigan team in a classic game, and lost their only game to the eventual Big Ten champions, Penn State.
What this means for college football is that every regular season game feels like a playoff game. For a team with championship aspirations, a single loss can jeopardize its entire season. Take the 2018 Ohio State team, which went 12-1, won the Big Ten championship, but missed the playoff due to a single bad loss at Purdue. Additionally, the 2017 Central Florida team went undefeated, but did not play a difficult enough schedule to merit a playoff bid. 
Four teams is the perfect balance between over-selectiveness and over-saturation. From 1998 to 2014, teams competed to play in the BCS National Championship Game: in this system, a computer calculation of various polls selected the two best teams in the country for a single championship game. In some years, there were two clear qualifying teams, though in others, the format did not award each championship-level team a chance to play in the postseason. In 2011, Oklahoma State and Alabama both finished their seasons having played 11 great games and 1 lackluster one. However, because LSU finished 12-0, only one of those teams played for a national championship. The College Football Playoff finds the right compromise to create a competitive yet fair regular season.
Unfortunately, this format is unlikely to last much longer. The College Football Playoff will expand for the same reason every other league's postseason has expanded in the last few decades: more games played means more money earned for the participants. The MLB playoffs doubled in size in 1995 and then added more games in 2013. The NCAA Basketball Tournament grew by 33% in 1985 and added play-in games in 2011. The NBA and NHL refuse to decrease their 16 team playoffs because of the money those extra games bring in. 
Like the other major American leagues, College Football has experienced growth in its playoff format in the last half-century. When regional intercollegiate football grew into the National Collegiate Athletic Association at the beginning of the 20th century, many conferences decided to send their champion to a postseason game against the champion of another conference. As interest in the sport grew, more bowl games were added. Because many regions of the country had traditions tied to their bowls, there was no clear way to create a playoff format for the sport. As a result, the NCAA national champion was determined by a group of writers for the Associated Press every January; this was seen by fans as biased and anticlimactic. In 1992, many conferences joined to form the "bowl coalition" in order to let the top teams play each other in their bowl game. However, the Big Ten (Midwest) and Pac-10 (West Coast) conferences declined to participate so that they could preserve their traditional Rose Bowl game. After a very controversial split championship in 1997, these conferences gave in and formed the BCS.
The BCS was, in many respects, even more controversial than its predecessor. Many fans and officials criticized the way that computers calculated the top teams in the country rather than record or human perspective. Every two or three years a team would feel they were denied a chance to play for a championship they deserved by the BCS system. In 2013, formal plans were announced to abolish the BCS and make way for a bracketed competition we now know as the College Football Playoff. 
The Playoff has been well received in its first five years, but there are still many criticisms of the new system. Many fans and officials think that having a selection committee adds too much bias and subjectivity into the selection process. A common suggestion is that each a spot be reserved for the champion of each of the five major conferences; this would prevent any conference champion from being excluded and would reward teams for winning their conference. It would also remove the subjectivity from the selection process for five of the eight spots.
It appears that a change to an eight team playoff may come sooner rather than later; Sports Illustrated reporter Ross Dellenger tweeted on Wednesday that a powerful athletic director disclosed that the major conferences are working on building an eight team model. Stadium's Brett McMurphy also reported that Big Ten Commissioner Jim Delaney is "open" to a change in the Playoff's format "under the right conditions." Although the College Football Playoff's current television contract, which plans for two semifinals and a championship game, expires after 2026. However, ESPN, who owns the Playoff's television rights, would surely permit another four high profile games on their networks.
The potential expansion of the College Football Playoff would certainly earn millions of dollars for television executives and leaders in college football. However, it would also come at a cost: it would take lots of emphasis off of College Football's incredible regular season.
About the Writer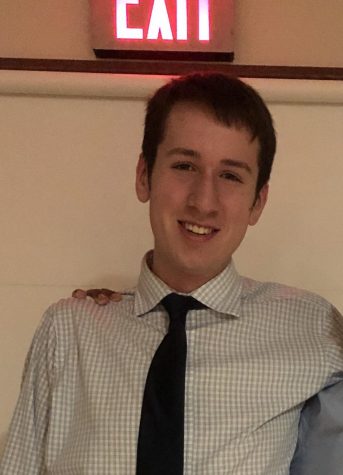 Peter Ryan, Editor-in-Chief
Peter Ryan is an 11th grade student at Friends Select School. Peter, who has attended FSS since 2nd grade, clerks Discourse Club and is a junior class...