Herb Kerns: Math Teacher. Basketball Coach. Dad. Legend.
Herb has had many roles in the community over his career at FSS. Although he especially loves teaching precalculus and discrete math, he has taught every math class between grades 7-12 except for abstract and linear algebra. Friends Select is the only school where Herb has taught, and he is "not sure his whole schtick would really work anywhere else." 
Herb's favorite part of teaching middle school classes is that there is "a lot of good energy." He loves going to class and wondering if his students will remember to bring a pencil and paper, and he enjoys the flexibility, specifically tying topics from statistics or discrete math into his middle school pre-algebra class. Herb says, "There are many days where I cannot tell the difference between my seventh-grade class and my senior elective." 
In addition to teaching, Herb has been both a middle and upper school advisor and is currently a sophomore advisor. He has loved all his advisories, defining his current advisory as "phenomena," and his colleagues. Herb has enjoyed working with Ralph Reinwald throughout his years at Friends Select and appreciates the flexibility of the school because he can both coach and teach. 
Herb, an experienced coach, claims that JV basketball has been his favorite sport to coach, although he would ideally coach lacrosse (FSS does not have a lacrosse team). He enjoys coaching basketball because he appreciates that he can impact the game as it develops. He loves watching 9th and 10th graders work hard and develop the skills they need to play on the varsity team. 
Herb has many stories about JV basketball to share. Once, on the way to a game, a rock was thrown through a bus window and almost hit Herb, landing on the seat in front of him. Nobody was hurt, but the boys of the 1997 JV team will never let Herb forget about what he calls a "funny" moment when he brushed the broken glass out of his hair. As an end of season gift, the team gave Herb a pair of baby Allen Iverson sneakers — and they fit!
This year's team has a lot of potential and talent, Herb says. This is Herb's first time in 14 years coaching JV boys basketball, so he is unfamiliar with the quality and playing style of the other teams in the Friends School League. However, he says the team looks good and he is hopeful for a successful season.
Bob Cotter nominated Herb for the Friends Select Athletic Hall of Fame for his 12 years coaching soccer, softball, and JV basketball. When Herb was a softball coach in 1999, his team played in the Friends League Championship Game. His plaque is not hanging because nobody has assembled it, but he hopes for a future installment.
An Eagles fan and lacrosse player, Herb describes himself as humorous, short, and omniscient, although he is not entirely sure what that means. He says he has a hectic family life with twin 12-year-old boys and a daughter who is a sophomore at Haverford College. Herb spent time with his children as a stay-at-home dad for many years, and he says he sometimes misses the "rhythm to home life," especially now that his kids are"a lot of fun and at an interesting age." Herb likes to cook with his children and spend time with them outside when the weather is nice. He says that nobody should read anything into the fact that he coaches sports in all three seasons and does not get home until late each night, emphasizing that it is "not a reflection of how he feels about his children." 
Over the years of his career, Herb has collected many personal stories. Long ago, when Bob Cotter was managing The Falcon, some of the newspaper editors used to visit his math classes to record funny and interesting quotes to publish in the paper, much to Herb's chagrin. Herb also mentioned his Contemporary Topics class that used to meet during the lunch block. Students were usually late due to the fact it took place at lunch, but one student in particular was late every single day. One day, Herb came into the room and this student was not there. While he was on his "typical rant" about this student, he popped out of the closet: he had been listening to Herb rant about him the whole time! 
This featured Friends Select icon hopes to be a cautionary tale to his students, claiming that "Friends Select students are so much smarter and more sophisticated than I ever was in high school." He believes that being involved in school activities will be students' most memorable moments from high school, and the commitment is definitely worth it. 
About the Contributors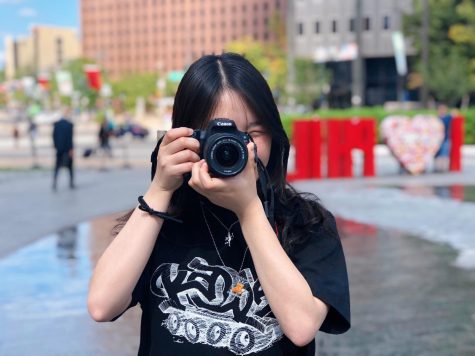 Chloe Zhang, Head of Graphics
Chloe is a senior in the class of 2020. She is a leader of The Falcon, in charge of photography and graphics. She loves photography, filmmaking and editing...