High School Musical: The Musical: The Series: The Review
Disney
High School Musical. A classic hated by some and treasured by others. I am proudly one of the latter, and even I'll admit that when I first heard that Disney was doing a reboot, I was very, very skeptical. 
HSM, a Disney Channel original movie that premiered in 2006 (with two sequels following in 2007 and 2008) is beloved by many 2000's kids for its iconic music (including "We're All in This Together" and "Get'cha Head in the Game," to name a few) and its cliché but endearing story. The movie follows a jock and a brainiac as they inspire their clique-filled high school to break out of their archetypal molds when they audition for the school musical (scandalous), all while falling in love. It's predictable, sure, and the acting isn't of the highest quality, but most importantly, it's a boatload of fun, and it's the source of an abundance of nostalgia for many who grew up with the films.
Having been a devout HSM fan for the majority of my life, I dismissed High School Musical: The Musical: The Series immediately after reading the show's ridiculously long title for the first time. The entire idea of a HSM reboot seemed absurd to me, as there was no way it could do my childhood favorite justice.
However, as the series slowly began to release episodes (insert joke about Gen Z not understanding weekly episode releases here), I began to hear surprisingly positive reviews from fellow HSM fans. A friend of mine had Disney+, the new streaming service that owns HSM:TM:TS, so, knowing that first impressions can sometimes be deceiving, I decided to give it a try. (Shoutout to Quilana for letting me watch it with her.)
Lo and behold, I found myself actually…enjoying it.
High School Musical: The Musical: The Series's victory lies in the simple fact that it's not trying to be High School Musical. It's completely original, while still maintaining the essence of the classic movies—cringe-y in the best way, and full of heart and great show tunes.
Instead of trying to recreate the plot of the film, the series follows a group of students at East High, the school where High School Musical was set, as they put on the school's first production of High School Musical: The Musical.
The thing about HSM:TM:TS is that it doesn't take itself seriously. It knows that it's a little ridiculous, and it calls itself out for that. If you're willing to suspend disbelief and embrace the slightly cheesy, at times unrealistic drama, odds are you're going to enjoy it.
The show is done in a mockumentary style (think Modern Family), which contributes to an authenticity that the original movies certainly lacked. (Even my elementary school self got annoyed every time Zac Efron looked straight into the camera in the middle of a dance number.)
Another aspect of the show that should be satisfying to the realists out there is the ages of the actors. Unlike in the originals, HM:TM:TS has characters that are played by actual teenagers. Leads Olivia Rodrigo (who plays Nini Salazar-Roberts, a chorus girl with dreams of being cast as Gabriella) and Joshua Bassett (Ricky Bowen, her skater dude love interest) were 16 and 18, respectively, when filming.
Other major characters include the third vertex in the show's love triangle, EJ (Matt Cornett), his cousin Ashlyn (Julia Lester), ambitious transfer student Gina (Sofia Wylie), costume designer and Nini's best friend, Kourtney (Dara Reneé), Ricky's best friend Big Red (Larry Saperstein), lovable choreographer Carlos (Frankie A. Rodriguez), his love interest, Seb (Joe Serafini), who's cast as a gender-swapped Sharpay, a drama teacher with a mysterious past, Miss Jenn (Kate Reinders), and a STEM teacher, Mr. Mazzara (Mark St. Cyr), who's less than pleased about all the drama surrounding East High's new musical production.
As for the music, it's a mix of new songs and re-imaginings of classics like "Stick to the Status Quo" and "Start of Something New." Both Rodrigo and Bassett contributed songwriting to the series as well as acting: Rodrigo penned episode four's ballad "All I Want," and the two worked together on episode nine's "Just For a Moment." 
Additional original music highlights include "I Think I Kinda, You Know," and "Out of the Old," performed by Rodrigo, and Lester's show stopping "Wondering."
It wouldn't be an HSM remake without at least a little bit of action from the original cast members, and the show doesn't disappoint, with Lucas Grabeel (who you may remember as Ryan Evans) appearing as himself for a duet with Reinders. KayCee Stroh (aka Martha Cox) cameos as well, briefly portraying a teacher at East High and busting out her signature "pop, lock, jam, and break."
All in all, High School Musical: The Musical: The Series is not to be missed; it's a perfect balance of tribute to the iconic movies with fresh content that's sure to entertain fans of the original. Apparently Disney agreed, as a second season of the show is already in production. Season two will involve the main characters returning for an East High production of Beauty and the Beast, which will likely be released this fall.
Sources:
https://www.imdb.com/title/tt0475293/
https://www.imdb.com/title/tt0475293/
https://www.imdb.com/title/tt0962726/?ref_=tt_sims_tti
http://www.playbill.com/article/high-school-musical-the-musical-the-series-joshua-bassett-and-olivia-rodrigo-are-the-next-need-to-know-musical-theatre-stars
https://www.imdb.com/title/tt8510382/fullcredits
https://www.etonline.com/hsm-tm-ts-stars-joshua-bassett-and-olivia-rodrigo-on-surreal-co-writing-debut-first-look-exclusive
https://www.popsugar.com/entertainment/will-there-be-season-2-high-school-musical-series-46888853
About the Writer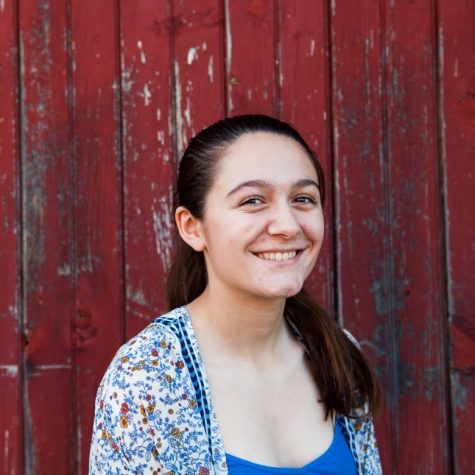 Annie Rupertus, Editor: Opinions
Annie Rupertus is a Hufflepuff, an introvert, and a member of the class of 2021. In addition to being a class officer and an athlete, Annie enjoys blogging,...