Coronavirus Will Not Knock Us Down
Note: This article was written on 2/10.  No updates have been made regarding facts surrounding the Coronavirus. 
After being away for three years, I finally had the chance to go back to China to celebrate the Chinese New Year with my family. Initially, I was excited for the special reunion. However, what I saw and experienced was not what I had expected. 
News about an illness called the Coronavirus started to spread widely through social media shortly after my arrival. Soon, streets were empty and the busiest areas of the city had become desolate and dreary. At stores and online, medical masks were completely sold out. Supermarket shelves were emptied quickly by hundreds of customers who wanted to hoard food.
This was the result of the 2019 Novel Coronavirus (2019-nCoV), which causes severe respiratory illness. It is in the same family of viruses as Severe Acute Respiratory Syndrome (SARS). At the preliminary stage of the illness, patients may experience fever, fatigue, and shortness of breath, but unlike the flu, patients do not suffer from sneezing and coughing. 
At first, the coronavirus was neglected by doctors when the first cases were reported at the beginning of December. "I remembered that it was December 31st when I first knew about the virus," said Amy, an international student from Wuhan. "I saw conservation screenshots of a doctors' group chat. A doctor said that some patients were confirmed with a SARS-like virus." These screenshots were the earliest admonition allowing people to recognize the severity of this disease. Those who had been through SARS in 2003 understood how destructive it could be. People started to panic.
The government and police detained those whistleblowers because of their apocryphal speech. They didn't want "rumors" to spread and cause alarm. Despite the government's intervention, those screenshots continue to spread widely on the internet. "It was New Year's Eve. My grandparents were supposed to come to my house and celebrate with me. But after my dad saw those screenshots, he told them to stay at home and put on masks."
On the first day of 2020, the Hunan Seafood Wholesale Market closed. The market, usually full of stalls selling deer, snakes, rabbits, peacocks, foxes and other wildlife, has always been a popular place for people to buy seafood and livestock for Chinese New Year feasts. But, at the end of December, patients with the Coronavirus in Wuhan were found to have been in contact with this large seafood and animal market. These animals were said to be the likely source of the virus. Looking at the virus's gene sequence, bats are suspected to be the most direct source. 
Before January 11th, forty-one people contracted the disease. Among these people, six died and thirteen lived in ICU. On January 20th, China's leading epidemiologist Zhong Nanshan confirmed that "it is a human-to-human transmission phenomenon." Due to coronavirus's highly infectious characteristic, many people quickly contracted it.
"My relative was confirmed with normal pneumonia around January 17th," said Amy. Then on January 23rd, Wuhan was locked down by the government to halt the further spread of the virus. All public transportation was suspended, including buses, subways, trains, planes, and ferries. The government ordered house-to-house temperature checks and confinements at the quarantine centers. "After a few days of the lockdown, my relative's pneumonia aggravated. He had to be hospitalized. He was put into the same room with patients who had coronavirus. He was cross infected. It didn't take long for the virus to end his life," said Amy, "His wife contracted the virus accidentally when she brought food to visit him. Now his family members all have to be confined and wait to be examined." 
After the outbreak of the coronavirus, doctors who were enjoying their statutory holidays with their families volunteered to help. They came from different places in China, such as Beijing, Shanghai, and Shenzhen. At home, they were children or parents, but in Wuhan, they decided to be doctors and save people's lives. 
On Lunar New Year's Eve, when others were celebrating with their families, doctors were working in an overwhelming environment. "The hospitals have been flooding with patients, there are thousands, I haven't seen so many before," said one doctor in Wuhan, according to BBC News.
Medical supplies and protective gear became scarce. When doctors went to the bathroom, their hazmat suits could be torn or ruined. Therefore, in order to not waste any protective gear, doctors would not eat or drink for hours and wore adult-diapers. Many doctors and nurses worked for hours without changing their pads or tampons. Most medics' hands were bleached by the constant disinfectant and lines from the face masks dug into their skins. As of February 7th, as many as 1,100 medical workers had been infected while treating other patients. 
On January 23rd, the government announced to build two new hospitals to cope with the severe situation. Ten days later, a new hospital was finished with a 1,000-bed facility. The government opened a live stream of the construction process. Everywhere, people could see construction workers in hardhats driving excavators and cranes. Many donated medical supplies after seeing the callouts from various hospitals, cooperating with logistics companies that opened fast pathways to deliver resources to Wuhan.
International students also offered their help. George, a senior at Gaston Day School, founded an organization called Fight for Wuhan Chinese Student Association in North America (CSANA). He says, "I founded this organization because I was worried about those patients suffering in China right now. As an international student, I wanted to devote my energy to help those in need. Therefore, I created a group chat on the first day of Wuhan's lockdown. I never thought that it would turn out to be a huge organization. We gathered about 105,000 dollars in 2 days and 134,000 dollars in a week." 
Though most members are under the age of 18, Fight for Wuhan CSANA developed into a solid system with two main departments: resources and public relations. Under each department, different volunteers are in charge of things such as supplies purchase, media, mental health support, finance, and law. For example, the resources department connects with mask making factories to order masks. Then, volunteers communicate with the transportation department to confirm the availability of transportation. The resource team also needs to confirm the masks' quality with the medical team. 
By directly purchasing from manufacturers, CSANA donates medical supplies efficiently through Alibaba and SF Express. George said, "Through this process, I started to take social responsibility and discovered my executive ability. I also learned things that I could never learn in high school. I started to focus on the social aspects of voluntary work. I learned about the law, public relations and customer service. I even learned how to identify effective medical supplies." 
The organization is going to stop donating and start building up its online anonymous chatting platform for doctors and their families to express their feelings and seek professional help.
While people in China were experiencing virus and panic, international students and ethnic Chinese were experiencing racism and hatred abroad. "When I tried to take uber, the driver asked me whether I was Chinese. I said 'yes' then he refused to take me and drove away. I had to wait until another car came, " said Alice, a senior at Boston University. Restaurants in different places hung the sign of "no Chinese allowed." People tried to cover their noses and mouths when they saw Asians. Some would yell "Chinese virus" to people's faces and walk away with disgust on their faces. 
However, the truth is, anyone could get sick. It is the virus that people should isolate, not Chinese people. We should fight against viruses instead of spreading racist speech among the community. As a Chinese international student, I expect the same thing as any Chinese person may expect. We hope to see the cherry blossoms bloom in Wuhan soon and live without this racism against Chinese people. Stay strong, Wuhan! Stay Strong, China!
About the Writer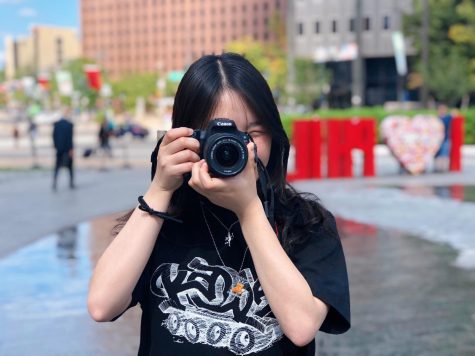 Chloe Zhang, Head of Graphics
Chloe is a senior in the class of 2020. She is a leader of The Falcon, in charge of photography and graphics. She loves photography, filmmaking and editing...