Opinion: Maintaining Your Mental Health During the Pandemic
I opened my eyes and stared at my ceilings. "What time is it? Am I late for school?" I thought to myself. I looked at my phone and saw that it was already half-past eight. "I am late for class!" I jumped out of my bed and rushed into my bathroom. But then I realized that I can't go to school anymore.
Now, most people choose self-quarantine. According to the CDC, the current number of deaths in the US due to coronavirus has already passed 55,000. Coronavirus not only intimidates people into panic-buying toilet paper, masks and hand sanitizer, it also threatens some people's mental health. Feelings of anxiety, stress, loneliness, and grief may come up frequently. During a pandemic like this, every bit of our feelings and actions could be amplified. For example, now, when people cough or their throats tickle, they could be extremely alarmed of potential illness.
For me, as an international student, I realize that my mental health is negatively affected by the coronavirus pandemic. At the beginning of its outbreak in America, I struggled between the choices of going home or staying in America. If I chose to go home, I would need to book an airline ticket, which is extremely expensive due to the outbreak. I might also get infected during my trip. I would also need to worry about my schoolwork and grades when I am in China (this was before our school switched to virtual learning). But if I chose to stay, I would need to store enough food and daily supplies to support my life. If I got infected in America, it would be expensive to go to the hospital. Moreover, because I am a foreigner, the American government would probably not care about me at all.
For days, I was anxious about this decision and could not fall asleep. I know that I am not the only one whose sleep is deprived because of this coronavirus crisis. While some people are in my situation, even those who are not are worried about their lives and future under this circumstance.
First, people are experiencing feelings of anxiety and stress because of medical uncertainty. All we really know about COVID-19 is that it is more transmissible and dangerous than a seasonal flu. COVID-19's fatality rate is 20 to 30 times higher than the normal flu. There are no specific vaccines or medicines to prevent it or cure patients. People are afraid of the unknown. Our lives are all controlled by this tiny virus that we can not even see. People not only worry about their health but also their loved ones' health as well.
Second, high school students are stressed about their grades and school work. "It became hard for me to ask teachers questions and discuss the problem with them," said Tony Lian, a current junior in Friends Select School. Juniors' standardized test-taking process is also affected greatly by the pandemic. "I planned to take the SAT in May but it was canceled by the College Board. I am scared that this pandemic will affect my college application process later in the year", said Tony.
Third, people are forced to stay at home. During a pandemic like this, what many people need is support from others. However, when we are all trapped in our houses, it is easy to feel a sense of loneliness because we can not physically socialize with others. A lot of people's plans also got canceled due to the COVID-19 outbreak. "I planned to spend my last high school spring break with sunshine and sea. But now, all I did over the spring break was just stay at home." said Oliver Qu, a senior in Friends Select School. Situations like this can make people feel sadness and grief. For seniors leaving for college very soon, it is sad to know that both prom and graduation will be postponed.
However, some people may think that staying at home can help to improve people's mental health. For example, people's time becomes more flexible. People can have time to learn new things or pick up old hobbies. There are fewer classes for students. Students can get more sleep as well. However, I think it is not that easy for everyone to enjoy their lives during this time.
Therefore, if you feel stressed, anxious or sad, I would like to offer some of my advice to support you through this difficult time. First, control the amount of news you read. You should only read a limited amount of news and only from professional organizations like CDC.
Second, do things that could distract yourself from the news. You can try to develop a new hobby. For me, I recently started to learn Korean online. Time flies fast when you are focused on the things that you love.
Third, if you are a student like me, when you encounter any problems regarding your schoolwork, always try to ask teachers for help. You can use email or teachers' office hours to communicate with them virtually.
Fourth, you should stay connected with your family members and friends. If you have struggles, especially during a turbulent time like this, it is always good to talk to someone. National Alliance on Mental Illness (NAMI) also offers free resources and essential services, including a Crisis Text Line (text "HELLO" to 741741), a Disaster Distress Helpline (call 1-800-985-5990 or text "TalkWithUs" to 66746) and the National Suicide Prevention Lifeline (call 1-800-273-TALK).
Last but not least, it is important to practice acceptance. We should remember to control what we can control and let go of things that we can not control. I believe if we follow these steps, we can stay away from some negative thoughts that are brought on by the pandemic. We are all in this together. I believe that we will get through it. Remember to stay strong and be positive!
About the Writer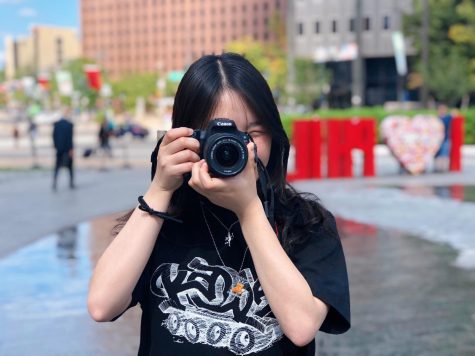 Chloe Zhang, Head of Graphics
Chloe is a senior in the class of 2020. She is a leader of The Falcon, in charge of photography and graphics. She loves photography, filmmaking and editing...