Student Reactions to Distance Learning
It's been seven weeks now since Friends Select closed its doors and transitioned to online learning because of the coronavirus pandemic, and students won't be going back to 17th and Race any time soon. After a few different schedule iterations, FSS's iSelectLearning program has established a solid framework. The Falcon spoke with some upper school students (virtually, of course) to see how they're adjusting to learning from a distance in this unprecedented time.
Every student is adapting differently to their brand-new routine. Izzy Ebede '21 says, "I don't mind distance learning. I think the teachers have been very accommodating and flexible, and I actually do have much more time to get my work done." Izzy takes walks every day and wakes up at eight to maintain a good sleep schedule.
On the other side of the spectrum, many students are having trouble with sleep; Sarah Goldberg '21 says that her sleep schedule is "destroyed."
Some upper schoolers are also having trouble balancing distance learning with other activities such as hobbies and talking to friends. Lucy Rupertus '23 remarks, "If I take time for myself during the day, then I have to sacrifice time during the night for homework." Lucy and other students communicate with classmates regularly via text, social media, and FaceTime, but many still miss in-person contact with peers. Izzy says it's been a challenge "not being able to talk to my classmates in person…There are also the little things that I miss in between classes—spirit day, funny assemblies, and just day-to-day interaction."
This isn't the only challenge for students who are stuck at home. Lucy, Tony Lian '21, and Rachel Luce '21 all note the new technological difficulties that accompany distance learning, whether it be varying levels of technological prowess on the part of teachers, poor internet connections, or the glitchy nature of Zoom conferencing for students who don't have Mac computers.
It's also a challenge for some students to adjust to their workload in a new environment. Lucy has found that "if you're not understanding something, it's harder to get a grasp on it through distance learning." Esmé Veda '23 says that she's struggled with motivating herself to do schoolwork. Sarah also says that getting work done is a challenge because it takes longer now without the normal rhythms of a school day. "Sitting at my desk for five hours a day is a lot," she says, and Lucy adds that "the longer I sit there, the harder it is to get work done." Esmé notes that these challenges are often exacerbated for students with mental health issues.
The schedule that was implemented beginning the week of April 13th has seen mixed reviews. Some students are unhappy about the number of classes—it's now possible to have up to 3-4 Zoom classes per day, with additional asynchronous work assigned as well. Lily Brin '23 worries about the amount of time she spends staring at a screen every day between hours of online classes and homework, which is often completed using a device. C.C. Servon '21 says that there's no way she'll "be able to focus on a screen for that long," though she concedes that she's unsure of a better option considering the circumstances. Lucy is concerned about the amount of classes as well, noting that some area schools, including GFS, have implemented a catch-up day in the middle of the week with no synchronous classes, instead allowing students to use that day to meet with teachers and catch up on work and sleep.
Students also report some positives of the current distance learning setup. Students seem to be happy that classes are now on a five-day cycle: Ewilca Nicholas '21 says that she likes the stability resulting from this change. Chris Crisden '22 likes that there are now club blocks twice per week, and he says that he thinks this schedule is "more effective…because you get more teacher time." Izzy also "absolutely loves the new schedule," praising its predictability and the fact that she can now meet with all of her classes every week. Lucy says that the absence of tests has lowered her stress levels in some regards.
With five weeks to go before the end of the school year, students have a lot more distance learning to get through. Upper School Dean of Students Norman Bayard advised in a recent email that community members continue to move forward "together with our heads held high."
About the Writer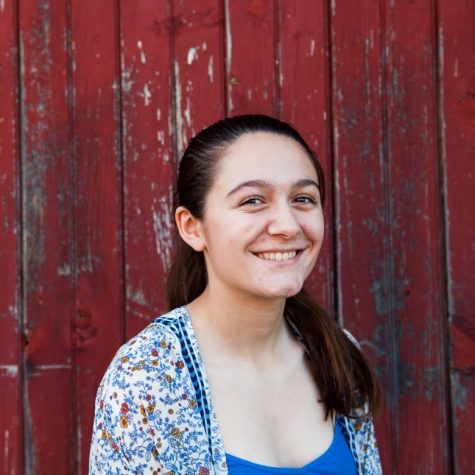 Annie Rupertus, Editor: Opinions
Annie Rupertus is a Hufflepuff, an introvert, and a member of the class of 2021. In addition to being a class officer and an athlete, Annie enjoys blogging,...