Fontaines D.C.' s A Hero's Death is a Listless Let Down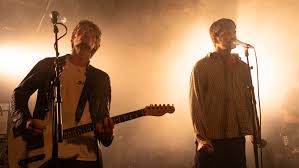 The British Isles have been overtaken by post-punk music in the past few years. Bands like IDLES, Girl Band, and Heavy Lungs have found critical and commercial success by carrying the effects-laden mantle of Joy Division and The Cure into the new decade. Irish poets 'Fontaines D.C.' became the scene's latest breakout stars after their highly commended 2019 debut, Dogrel. After a year of heavy touring, the Dubliners announced their soon-to-come sophomore album, A Hero's Death, and released their first single of the same name.
"A Hero's Death" is one of Fontaine's D.C.'s best tracks. The opening drums hit right in that post-punk sweet spot between reverb and punchiness. I love the Beach Boys-esque backing vocals that lace the entire song. They provide a tug at the tension between the carefree playfulness and engrossing anxiety that are at the center of the song. It's a great step forward from Dogrel, whilst also not straying too far from what the band is good at.
All this serves as a back-drop to lead singer Grian Chattan's lyrics, delivered with his signature Irish drone. The band is made up of members who bonded over a love for poetry, and as one would expect, their lyrics are often a focal point. The song's chorus is one repeating phrase — "life ain't always empty" — and the verses are made up of life advice truisms with some trademark Fontaines wordplay. Some stand out examples include, "don't let the clock tell you what you've got time for" and "if you find yourself in the family way, give the kid more than what you got in your day." I spent a while before the album's release trying to decide whether the track was a positive or a negative one; are the truisms completely ironic or does Chattan find his own meaning in the cliches? Ultimately, I think it's sort of a mood ring; it reflects the listener's current mindset in a way that yields a lot of repeat listen value. The track closes with a lyric that is clearly meant to foreshadow things to come: "that was the year of the sneer, now the real thing's here."
If this album is what Fontaines D.C. mean by the "real thing," then take me back to when they were faking it. While there are tracks and moments that are enjoyable on their own, as a cohesive unit, the album A Hero's Death is sluggish and lacking. My first surprise was that the album kicks off (although it's less of a kick and more of a nudge) with the drawling second single "I Don't Belong." By itself, it's not a bad song. The Modernist lyrics are there, the instrumentals set an interesting, albeit phlegmatic, tone. However, it's not the sort of song that entire albums should be composed of.
Too many tracks on this record fall into this trap of reverb-drenched Ian Curtis worship. It's a trap that's claimed many a post-punk casualty before them, but it's sorely disheartening to see Fontaines D.C. fall into it. The often too bare instrumentals are more meager than minimalist. Even the band's few attempts at something rousing ( "A Lucid Dream," "I Was Not Born") are bromide. And unlike Chattan on the title track, I'm not able to pull much from these cliches. When it came time to re-listen to this album to review it, A Hero's Death left me dragging my feet almost as much as the band's guitarists as they trudge through this record. Fontaines D.C. — give me a Joycean antonym for "refreshing."