Opinion: The Eagles Should Not Bench Carson Wentz, at Least for Now
Although fans and pundits have clamored for the benching of Eagles quarterback Carson Wentz in response to last Sunday's embarrassing 22-17 loss against the Cleveland Browns, head coach Doug Pederson intends to stick with his starting quarterback for the foreseeable future. Cries for Wentz's benching have intensified almost every week due to continually poor play, which is partially to blame for the Eagles' 3-6-1 record. 
Incredibly, Wentz leads the NFL in both interceptions thrown (14) and fumbles lost (9). While quarterback turnovers are often attributable to poor offensive line play and strong defensive coverage, he has demonstrated poor decision making, questionable vision, and shoddy throwing mechanics in all ten Eagles games this season. Although the Eagles' offense cannot get much worse than it has been in recent weeks, the team should not bench Carson Wentz. His replacement, rookie backup quarterback Jalen Hurts, is poorly suited to the team's personnel and play style in a way that could jeopardize the development of other young players.
Hurts has been used exclusively in plays designed for quarterback runs this season, and may lack the playbook familiarity needed to lead an NFL offense. As a college player at Alabama and Oklahoma, he struggled with downfield throws so much that he was once benched himself. Consequently, Hurts would need to reinvigorate the Eagles' offense with his feet, a grim prospect considering the team's lackluster blocking so far this season.
Replacing a pocket passer with a young dual-threat quarterback is not a novel idea: the Baltimore Ravens subbed Lamar Jackson for Joe Flacco in 2018, and the 49ers stuck with Colin Kapernick in 2012 after Alex Smith missed multiple starts with an injury. Both of these changes paid off: the Ravens have gone 26-7 since switching to Jackson, and the 49ers appeared in two consecutive NFC championship games (and one Super Bowl) with Kapernick under center. Some believe that Hurts, who has played in many design-run formations this season, may offer similar upside as a quick mobile quarterback.
However, capitalizing on Hurts' strength as a runner will take more than a simple replacement. When Ravens coach John Harbaugh named Lamar Jackson as his starting quarterback in 2018, he redesigned many offensive sets to fit Jackson's style. Harbaugh made this change because he was ready to name Jackson as a long-term starting quarterback, rather than as a placeholder before acquiring a franchise quarterback. If the Eagles' coaching staff hopes to win any more games this season, they will need to adjust the whole offense to fit Hurts, and not vice versa. Thus, Hurts should only assume the starting role if he is ready to learn new plays and lead a large-scale change to the Eagles' offensive identity.
Additionally, the Eagles differ from teams that have successfully implemented a young mobile quarterback in one crucial way: they lack a dependable offensive line. Both Jackson and Kapernick had Pro-Bowlers for left tackles (Ronnie Stanley and Joe Staley, respectively), along with other talented blockers. Conversely, Hurts would get his blind-side protection from left tackle Jason Peters, whose reliability has decreased rapidly in recent seasons. Offensive line struggles have already handicapped the Eagles' season, and introducing a run-dependent offense could exacerbate the line's negative impact.
A decision to bench Carson Wentz could also have long-lasting effects on young Eagles skill players. Adopting a Jalen Hurts-led offense would almost certainly lead to fewer targets for young receivers Jalen Reagor and Travis Fulgahm, who both appear to be part of the Eagles' long term plans. Additionally, second-year running back Miles Sanders could see fewer snaps in a revamped offense, as he lacks the blocking skills to protect a dual-threat quarterback. Although a quarterback change would take the ball out of Wentz's untrustworthy hands, it could stunt the development of other young players and hamper the Eagles' offense in years to come.
Other aggressive gunslinging quarterbacks like Wentz have bounced back from abhorrent seasons in the past: Hall of Fame quarterbacks Dan Marino and Brett Favre endured similar slumps at similar stages in their career before bouncing back to all-NFL form. While few would argue that Wentz can hope to ever reach the level of those two legends, it is worth considering that his struggles could be short-lived. Wentz has led the Eagles to three consecutive playoff appearances and a Super Bowl title — although quarterbacks cannot rely on previous success alone, the Eagles will struggle to find a replacement with a higher ceiling.
Although Wentz is playing at a level far below what should be expected of an NFL quarterback, it is hard to imagine that removing him from his starting role would make any difference to the Eagles' season. The team leads the NFC East, but the other six NFC teams that make the playoffs will almost certainly make quick work of the Eagles, who have been poor across the board. Even if Jalen Hurts miraculously solves the Eagles' offensive problems, it will take massive personnel changes over the offseason to adjust to his unconventional style. Carson Wentz may be done as a competitive starting quarterback in the NFL, but the Eagles will have more success drafting a replacement after sticking through this season with their current "star" under center.
About the Writer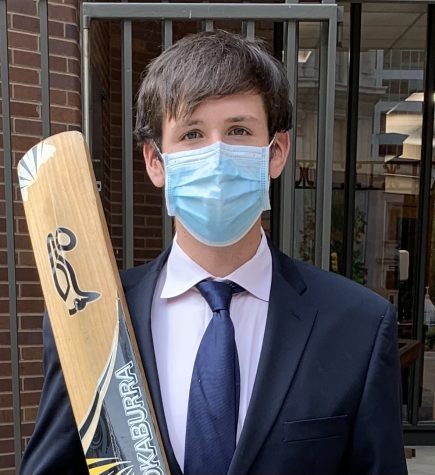 Peter Ryan, Editor-in-Chief
Peter Ryan is a senior at Friends Select School. He currently serves as President of Student Government, Co-Clerk of QUAKE, and founding leader of Cricket...