Minas Macos '20: Falcon Cadet
Last November, Minas Macos '20 woke up less than an hour before class to make the short daily walk from his house to Friends Select School. One year later, he rises at exactly 5:15 AM to participate in mandatory company runs at the U.S. Military Academy in West Point, New York. What compelled a Quaker school lifer to pursue a military education?
In his fourteen years at FSS, Minas embraced Quaker values as a community member and as a leader on the soccer and baseball teams. Although Friends Select often pushes anti-military rhetoric, Minas' Quaker education actually inspired his decision to join the army. After a decade of learning about the SPICES and the value of community, Minas says that he "wanted to find a way to give back to all my communities as a whole, as a student, as a Philadelphian, and as an American. It provides a great chance to give back to the country that welcomed my family as immigrants."
As Minas began his college search, he began to notice unexpected similarities between West Point and Friends Select. Collaboration and mutual respect serve as both communities' foundations, and classmates in both environments regularly show appreciation for each other. Additionally, West Point and Friends Select both demand academic excellence and intellectual rigor for students who hope to succeed, making Minas' classroom transition somewhat natural. Although military service is a much greater commitment than volunteer help, both West Point cadets and Friends Select students share a passion for community service. Ultimately, West Point stood out as a perfect choice because it offered both a world-class education and an unrivaled opportunity to give back.
Although both schools value community above all other values, they are about as culturally different as possible. After fourteen years without a school uniform, Minas is now required to wear the only type of clothing forbidden at FSS – camouflage. Students at West Point follow a very strict social code: they must play at least one recreational team sport, complete daily workouts, and turn their bedroom lights out by 11:30 PM. West Point also has a number of rules to discourage romantic relationships: "if there's a couch in your room, a boy and a girl can't both sit on that couch. Technically, people of the same gender can't sit together either, because the school has changed its policy to be more inclusive," says Minas. This is done to promote professionalism and prevent emotional conflicts in a military setting.
Friends Select's laissez-faire approach to discipline and student life would seem alien to West Point Students: infractions and code of conduct violations can result in "hours," a term for West Point's physically exhausting method of punishment. Students with hours are required to walk back and forth for hours while wearing their full army uniform, which weighs down the body. Those with hours must serve their time during their next available free time – they may only rest once they have completed their hours. According to Minas, some students have received over 100 hours as punishment.
When Minas told his classmates and teachers that he hoped to attend West Point, he expected mixed reactions. Instead, he received "nothing but support" from his peers, who respected and appreciated his decision to serve the United States. His closest friends, many of whom identify as pacifists, supported his decision but wanted to confirm that Minas "knew what he was signing up for." Minas' advisor, Margaret Smith, was initially surprised by his decision, but said that "the more [she] thought about it through his application process, the less surprising it seemed." As Margaret recalled her time as Minas' history teacher, she realized that he was a loyal and resilient community member, as well as "the type of student who crossed his t's and dotted his i's," making West Point a natural choice for college.
These days, Minas' day-to-day life consists mostly of classes, workouts, and downtime. He currently takes six classes across subjects, including a boxing class that all West Point students must take before graduating. Before class every day, all freshmen fulfill their "plebe duties." These responsibilities include mopping floors, cleaning bathrooms, and gathering trash from dorm rooms. Then, before their mandatory breakfast, freshmen are tasked with waking all other students. Every non-athletic activity or responsibility must be completed in one of two school uniforms: a white button-down shirt with grey pants, a full camouflage outfit, or official full grey class uniforms.
Like all of his non-varsity classmates, Minas is required to participate in company athletics, a broad term for intramural sports at West Point. Although company athletics are recreational, Minas' workload is intense, especially when coupled with club sports. "I have practice or games every other day for at least an hour, and the club team has 3-5 practices a week for two hours. There are days where I'll have three hours of soccer," he says. Between sports and classwork, there are some days when Minas does not return to his dorm until 8:00 PM. Dining at West Point is also somewhat different from traditional American universities. Rather than having a variety of restaurants and student dining centers, West Point offers three options: a couple of small takeout restaurants, Grant Hall (an a la carte dining hall), or a free mess hall.
Even Friends Select's purposefully broad curriculum could not fully prepare Minas for the culture shock of college. West Point is a national university and draws students from all over the country. The school also attracts international students (known as international cadets), who study at West Point before returning to their home countries to serve long military careers. "I have an international cadet in my company on my soccer team – he's from Mongolia," says Minas. Sports also play a much larger role at West Point than at Friends Select. All cadets are required to attend football games at Michie Stadium, and many students are also varsity athletes. Minas' roommate, Boobie Law, is an offensive lineman for the varsity football team.
West Point's military affiliation permeates all areas of Minas' life, all the way to the classroom. "Everything that we do is applicable to the military. When they give us math problems, all of them are military-based. You have to plug each value in to find a variable of mortars, artillery rounds, or another unit like that," he says. Minas is currently enrolled in six classes: math, history, literature, chemistry, computer science, and boxing. Although some classes are less easily anchored to military concepts, combat-centric angles are taken when possible. One class, though, is different. "English is normal – we're reading Virginia Woolf," says Minas.
Regardless of practical importance to military life, all classes at West Point are intense. A complicated class rank formula dictates almost every aspect of life at West Point, and even determines where graduates complete their service time. Class rank combines a student's academic GPA (their classroom grades), physical GPA (their performance on fitness exams), and military GPA (their military proficiency). Although class rank is not published, students' positions are implicitly known around campus: "you don't exactly know everybody else's class rank, but you can tell," says Minas. Class rank may be stressful and simplistic, but Minas and his classmates understand its place at West Point: "the school needs officers who are smart, but also militarily and physically proficient. Personally, I find the balance to be very practical. It's needed in the army," he says.
Upon graduation, all cadets select their preferred military branch before they begin their service. In each of the twelve branches, cadets can choose which specific military base (post) at which they'd like to serve. Although an interview process is used to assign graduating cadets to specific branches, students with a high class rank get first choice for posts. Hopes of serving at a desirable post motivate students at West Point from day one: "kids will prioritize their class rank so that they can get their desired branch and post," says Minas. Currently, Minas is considering aviation, military intelligence, and military police as potential post-graduation posts.
Every student from West Point is required to complete at least five years of active duty in the U.S. Military; those who fail to complete this service are required to repay $300,000 worth of tuition to the federal government. Some, though, choose to continue in the army for their entire adult lives. "You have plenty of kids here who are set for careers in the military who want to be two-or-three star generals and retire in fifty years," says Minas. However, "you also have kids who already know they're going to be 'five and fly,' so they'll do their service, leave, and apply for corporate jobs as a distinguished military officer," he says.
Friends Select often advertises itself as a school that exposes its students to all possible career avenues, and nobody proves this statement more than Minas. The military is certainly an unconventional and rarely discussed path for Friends Select alumni, but Minas feels right at home in a space where students are required to work hard, play games, and take care of their peers. The pipeline from the meetinghouse to the military runs dry and narrow, but for the right student in an accepting and encouraging environment, it can be the perfect fit.
About the Writer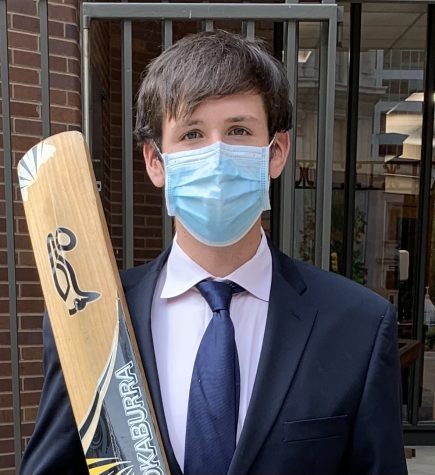 Peter Ryan, Editor-in-Chief
Peter Ryan is a senior at Friends Select School. He currently serves as President of Student Government, Co-Clerk of QUAKE, and founding leader of Cricket...