Should House Democrats Impeach Trump Now or in 100 Days?
Just nine days before Joseph R. Biden's inauguration as President of the United States on January 20th, Democratic congressional leaders introduced articles of impeachment against President Donald Trump. These articles accuse Trump of "inciting violence against the government of the United States" before the attack on the U.S. Capitol on January 6th. Representative Jim Clyburn of South Carolina, who serves as Majority Whip, indicated that house Democrats may wait until Biden has occupied the presidency for 100 days to formally impeach Trump.
100 Days: Margot Schneider
President Trump is clearly deserving of impeachment and conviction, but this process should not interfere with the beginning of President-Elect Joe Biden's term. Senate majority leader Mitch Mcconnell has already announced that the Senate will not begin an impeachment trial until January 19th — one day before Biden's inauguration. Obviously, it's crucial that the House of Representatives initiates Trump's impeachment during his term to create the possibility of conviction, but it is more practical to delay the Senate trial for a few months.
One reason to delay is to prevent further potential violence across the nation. After the storming of the Capitol last week and new FBI warnings suggesting potential riots in all 50 states surrounding the upcoming inauguration, Trump supporters across the nation are threatening and initiating harm. Moving forward immediately with impeachment proceedings could pose a huge national security risk. It's best for the safety of the country to let some conservative anger and backlash settle down first, being that the results of a successful impeachment would look the same at any time.
Additionally, delaying the impeachment gives new Georgian Senators Jon Ossoff and Raphael Warnock time to get sworn into office, leaving the Senate more Democratic than before. Currently, they await the runoff election certifications, which will not be a concern should the Senate choose to postpone the trial. However, a Senate conviction will still require a two-thirds vote to be successful. The fact that a few Senate Republicans have already voiced their support for a Trump impeachment, though, could potentially indicate a trend. Republicans may now distance themselves from Trump during the final days of his term as an effort to save face and maintain some professional credibility. This could continue into Biden's term and increase the likelihood that more Republican senators break party lines, which would increase the chances of a successful conviction.
Impeachment alone would not prohibit Trump from running for office again in 2024 — this would require an additional Senate vote banning him from the presidency. However, a successful impeachment could make the additional Senate vote more likely to permanently ban him from office in the future. This vote, if it does come to fruition, is very far off, and does not need to be the first major event that defines Biden's term.
Among the pressing matters of the beginning of Biden's presidency is COVID relief, which is also the most time-sensitive issue. With 376,000 deaths and 22.7 million cases as of today, January 12th, Biden's COVID plan should go into effect immediately and efficiently to help countless sick and dying Americans. A complicated legal battle against an ex-president, though important, should not be his first major project, especially considering there is an easy option to delay it.
Even on a broader scale, Trump's impacts will last for years and define much of, if not the entire Biden presidency. He will irrefutably continue to deal with Trump for some time, so the Senate should allow him to establish himself in office and kickstart his own agenda, including years of hopefully positive and progressive change. Clyburn said it perfectly: "let's give President-Elect Biden the 100 days he needs to get his agenda off and running, and maybe we'll send the articles sometime after that."
Now: Peter Ryan
President Trump's overt encouragement of January 6th's violent insurrection on the Capitol was a disgusting and shameful attack on American democracy. It is imperative that Trump be held accountable for his comments, both to provide justice and to establish a clear precedent against fascist behavior in the oval office. For this reason, Congress should move to impeach President Trump as quickly as possible.
Waiting 100 days to formally impeach President Trump risks the possibility of congressional leadership declining to hold him accountable at all. The American people will not soon forget last Wednesday's attack, but the breakneck speed of the American news cycle will soon move on to the next major news item. Once outrage over the Capitol invasion has dwindled, obsession surrounding Trump will persist, but anti-Trump rhetoric inside the Republican party will decline. Congress should move to put Trump on trial as quickly as possible to avoid the possibility of Republican ambivalence.
Although Democrats will control both houses in three months, the Senate is much more likely to convict Trump than they will be 100 days from now. Republican Senators Lisa Murkowski (AK) and Mitt Romney (UT) have both said they would support an impeachment effort, and their frustrated colleagues like Pat Toomey (PA) and Ben Sasse (NE) could follow suit. Conservative anger against Trump is at an all-time high — Democrats would be remiss not to capitalize on this opportunity to convict the president.
Additionally, the looming presence of a potential impeachment trial would overshadow early legislation and executive action on Biden's agenda. Because Trump is so polarizing and widely-scrutinized, media outlets will continue to obsess over every small detail regarding his impeachment. As long as the possibility of impeachment remains, Trump will stay in headlines and nightly national news broadcasts. This coverage will distract from the early Biden presidency, which will undermine his efforts to further climate change, social justice, and anti-corruption legislation.
Of course, any measures taken against President Trump have the potential to incite violence among the same domestic terrorists that besieged the Capitol on Wednesday. A forced removal could also generate even more acrimony in an already divided American political climate. However, there is plenty of time to prepare for another insurgency, and letting a destructive and demagogic president walk free will do nothing to quell partisan tension.
Trump's recent comments, like so many of his unconstitutional actions over the last four years, reflect his belief that the President can behave with total impunity. If representatives and senators fail to hold him accountable for his crimes, he will once again be proven correct in that assumption. The best chance that Democrats have to convict Trump is to seize on current animosity against the president, so they should proceed with impeachment as quickly as possible.
About the Writers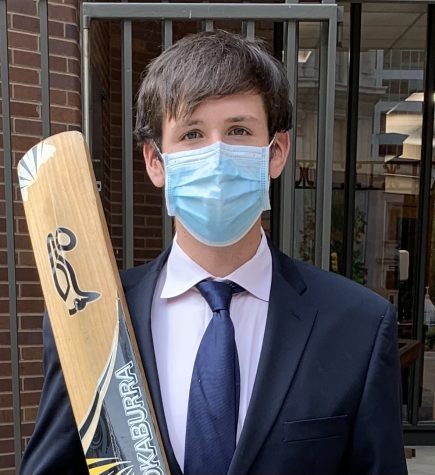 Peter Ryan, Editor-in-Chief
Peter Ryan is a senior at Friends Select School. He currently serves as President of Student Government, Co-Clerk of QUAKE, and founding leader of Cricket...