How Venues Like Veterans Stadium Contributed to White Flight and Systemic Racism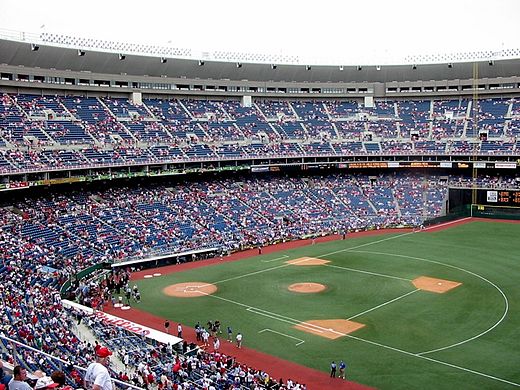 Saturday, April 10th marks the 50th anniversary of the Philadelphia Phillies' first game at Veterans Stadium, Philadelphia's premier outdoor sports and entertainment from 1971-2003. The stadium, located at 35th and South Broad Streets, was replaced by Citizens Bank Park and Lincoln Financial Field in 2004. Veterans Stadium, widely regarded as an unpleasant and garish concrete donut, was nearly identical to the multi-purpose municipal stadiums constructed around the United States in the late 1960s and early 1970s: Three Rivers Stadium in Pittsburgh, Riverfront Stadium in Cincinnati, and a number of other stadiums were all built on the far reaches of city limits, designed to hold all types of public events at a single venue.
These stadiums, built as convenient and cost-effective solutions to a growing demand for entertainment, also carry a more sinister side to their histories. Veterans Stadium, like others built in its era, replaced an older field in a blue-collar neighborhood. Connie Mack Stadium, where the Phillies played for 33 years before moving to Veterans, was located at 21st and Lehigh Avenue in North Philadelphia. Like so many other cities, Philadelphia experienced significant "white flight" shortly after World War II. During this period, white families fled city limits to settle in spacious and affordable suburbs, while families of color were held back by racially motivated intimidation and discriminatory zoning practices.
As white flight ravaged major American cities in the postwar boom, baseball owners began to feel its impact: working-class whites, who had historically purchased a sizable portion of all MLB tickets, were now miles away from the inner-city neighborhoods where baseball games were played. With no space for parking and rising fears of "dangerous" neighborhoods, white middle-class Americans stopped buying tickets. Average attendance for MLB games dropped 16.7% over the 1950s and remained at about the same rate during the 1960s.
Some teams, like the Brooklyn Dodgers, responded to this development with alacrity and shrewd capitalism. The Dodgers, playing in the redlined Flatbush neighborhood of Brooklyn, suffered a 43.8% decline in attendance between 1946 and 1957. At the end of the 1957 season, the Dodgers' ownership decided in just a few days to pack up and move to Los Angeles, where they would build a massive stadium off of Interstate 110 to provide easy access for suburban fans. The Dodgers were joined in their move to California by the (now) San Francisco Giants, who abandoned the Polo Grounds, located in majority-black Harlem. Other franchises that made similar moves were the Washington Senators, who deserted the historically black LeDroit Park neighborhood for Minneapolis, and the Boston Braves, moving from Edgmont Tenants to Milwaukee.
While the above clubs enjoyed enhanced attendance figures after their moves, teams that stayed put did not: Philadelphia, Pittsburgh, and Cincinnati were the bottom three National League teams in attendance throughout the late 1960s. At this point, owners knew they needed to make a change. Pointing to the success of relocated franchises, these owners threatened to leave their respective cities unless mayors and city councils funded massive new stadiums on the fringes of the city. City governments acquiesced to their baseball teams, fearing public backlash if their cities were left without a team.
The unintended consequences of baseball's evacuation are still felt today. By fleeing inner cities, baseball owners abandoned surrounding business owners who benefited from high gameday foot traffic. Additionally, the municipally-funded construction of mega-stadiums was costly only to city residents, even when suburban families were the target audience. Because of rapidly shifting demographics in the middle of the century, the denouement of this phenomenon is a culture where socioeconomically marginalized individuals and families finance entertainment for the wealthy.
In the modern era of baseball, many owners have relocated to downtown areas of cities, recognizing the appeal of quaint retro ballparks and walking to games. However, these parks are also built with public money for private use, and more often than not, they are constructed in wealthier neighborhoods anyway.
The appropriate response to this historical inequity is difficult to determine. There is no practical way to compel the MLB and its franchise owners to construct stadiums in any place other than the most profitable available location; their job is to profit from the game, which is currently impossible in socioeconomically marginalized neighborhoods. Rather than abandoning their billion dollar concrete castles, baseball teams should pay reparations by investing in their cities' poorer neighborhoods. This could even be done through foundations designed to educate young children and introduce them to baseball and softball.
The Phillies have a clear place to start their restitution: the same lot at 21st and Lehigh where they played until 1970, which is now occupied by Reyburn Park and the Murrell Dobbins Career and Technical Education (CTE) High School. Although Dobbins was just renovated last fall, the surrounding neighborhood (which was left without a primary revenue generator when the Phillies left) could greatly benefit from more investment. In order to start repaying their deeply self-interested flight from North Philadelphia, the Phillies should begin to invest resources in the community again.
View Comments (3)
About the Writer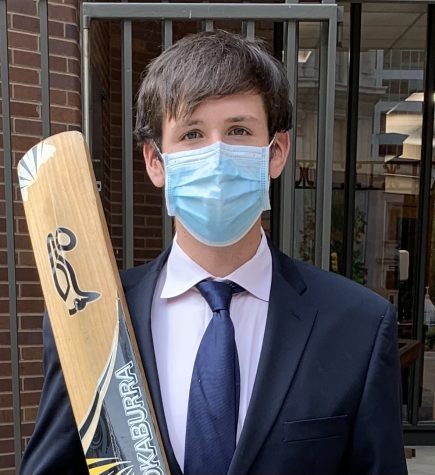 Peter Ryan, Editor-in-Chief
Peter Ryan is a senior at Friends Select School. He currently serves as President of Student Government, Co-Clerk of QUAKE, and founding leader of Cricket...