FSS Students Embrace Skate Culture
At 8:00 a.m. every morning at Friends Select School, approximately eight Upper School students arrive via skateboard. Once they enter the building, they store their boards in the Upper School hallway and discuss tricks and good hills to ride. Throughout the day, they ride through the halls and visit local parks to perform tricks.
According to a study from the University of Southern California, skateboarding and its associated culture has developed from a regional subculture in Southern California to a nationwide phenomenon. The laid-back and social nature of the activity makes it accessible and enjoyable for newcomers.
Lex Winitsky '22, who began skateboarding long before it became trendy at Friends Select, points to the activity's social aspect as an explanation for its emergence: "Skateboarding is an easy thing to do together with other people, and it's cool to talk about," they say, adding that visibility on TikTok has also generated some interest.
Many seniors who skate were initially inspired by Jonah Berrong '21, who began skating over a year ago. Over the past two months, Jonah's friends Taariq Mbaraka '21, Jack Denham '21, Nick Hurwitz '21, Alex Haurin '21, and Mark Aaronson '21 have all picked up boards. "COVID-19 has been pretty isolating for people, so I think that skating is a great way to hang out in a socially distanced fashion," says Taariq.
Despite its popularity among students, skateboarding has drawn the ire of some Upper School administrators. "When I see skateboarders trying to either skateboard or perform tricks in the hallway, that gets me nervous," says Assistant Registrar Deneen Young. "I'm trying to keep people safe, both physically and with COVID." Deneen says that the skateboarders have been warned to stay off their boards in the hallway; if they are caught again, all skateboards at Friends Select will be confiscated.
However, even Deneen is intrigued by skateboarding. "When I see these guys skating in the hallway, it makes me think to myself, maybe I should get a board," she says.
About the Writer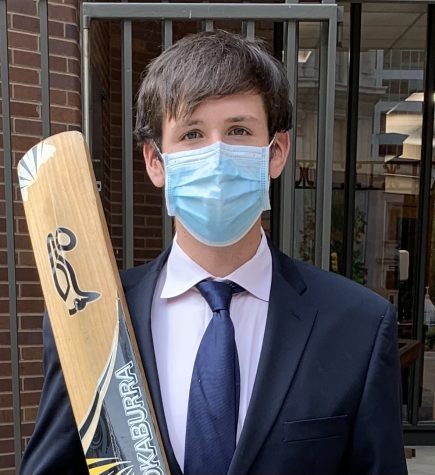 Peter Ryan, Editor-in-Chief
Peter Ryan is a senior at Friends Select School. He currently serves as President of Student Government, Co-Clerk of QUAKE, and founding leader of Cricket...