Dick Hoffman: "Keeping the Spirit of Friends Select Alive"
In 1967, Head of Upper School Dick Hoffman stood at the corner of 16th and Cherry St and photographed the construction of the current Friends Select School building. 54 years later, as the school's archivist and longest-tenured faculty member, he moved those photos and countless other artifacts into storage as the school prepared for its next major expansion. In the period in between, Dick has preserved the school's history and served myriad roles as an educator, administrator, and Quaker.
Dick, who was born and raised as a Quaker in Philadelphia, studied as a pharmacy student at Philadelphia College of Pharmacy (now called University of the Sciences) for three years before a change of heart led him to pursue a History and Political Science degree at Earlham College, a Quaker school in Indiana. As an avid reader and lifelong learner, Dick realized rather late in the game that he "didn't want to count pills into big bottles and little bottles," prompting him to transfer. For Dick, this decision was financially complicated: when Dick's father passed away in 1943, his mother told her sons that they must go to college but also had to pay their own way. This requirement led Dick to work several odd jobs throughout his youth: during middle and high school he ran paper routes, worked as a handyman and "soda jerk" in a drug store, and sold vegetables door to door. By the time he finished high school, Dick got a summer job carrying mail for the local post office, sometimes working for more than half the day. "I knew enough that I could work what we called the 'city scheme,' where I work from midnight to 8:00 a.m. casing up the incoming mail for my route before spending the next eight hours completing [it]," he recalls.
After his schooling, Dick enlisted in the U.S. Army, going against much of the Quaker anti-war messaging of his childhood. After initially forgoing Selective Service as a conscientious objector on his mother's advice, he attended a preliminary training camp put on by the Brethren Volunteer Service to see if "the army was good for [him] and [he] was good for them." For Dick, absolute opposition to combat was never so simple: Japan bombed Pearl Harbor when he was six years old, and the rest of World War II unfolded across much of his childhood. This consideration of total, world-threatening evil shaped Dick's view of the military: "I decided that given the Nazis and Imperial Japan, I couldn't have sat on the sidelines," he says.
Once he passed his basic training at Fort Dix in New Jersey, Dick passed the army's foreign language exam, sending him to the Presidio of Monterey for further studies. Upon arrival, he was given a choice as to which language he would study. Rather than learning the language of a contemporary adversary like Russian or Chinese, Dick selected Arabic because he "wanted something different." Although he spent over three years in the military, Dick never left the country, working for the National Security Agency as a cryptanalyst and studying Arabic with the same small group of students. Had he chosen another language, the course of his young life could have been much different: "even in 1959, there were some inklings that you didn't want to take Vietnamese," he recalls. Military service ran counter to Dick's Quaker upbringing, but it didn't impact his faith — in his eyes, Quakers aren't bound to conscientious objection.
Upon leaving the military in 1965, Dick enrolled in graduate school at the University of Chicago for a Master of Arts degree in Middle East Studies and Constitutional Law. The latter program later became an important part of Dick's presence at Friends Select: for many students, Dick's most memorable and impactful class was Constitutional Law, which was sometimes also covered in his U.S. History classes. Robin Bernstein '67, who later graduated from Columbia Law School, called the class "one of the things that inspired me to become a lawyer — I don't think I would have done that if it weren't for Dick." According to one yearbook caption, Dick often carried a copy of the Constitution around the school building.
Dick's Quakerism did play in a significant role in his personal life and administration at Friends Select. He served on interminable school committees regarding curriculum, administration, student life, Quakerism, and several other ad hoc issues. Outside of school, Dick served for several years as the clerk (and later as secretary) of the Lansdowne Friends Meeting. In addition to these committees, Dick was thrown into a diverse array of roles and responsibilities at Friends Select as a sort of administrative everyman.
Among the sundry positions Dick served at Friends Select was the role of college counselor — when he took over as Upper School Head in 1967, the job automatically entailed guidance counseling responsibilities. According to Gaby Jordan '76, the role of the college counselor 50 years ago was quite different from today: "He really was the one introducing us to the different schools. We didn't have college fairs, so he was the critical piece in determining where you would go to school," she explains. In Dick's 33 years as counselor, he encountered countless situations and student ambitions. Whereas Gaby applied to just four schools (Harvard, Penn, Brown, and Yale) and considered the University of Pennsylvania her safety school, Keith Wapner '71 expressed his desire not to go to college at all. 
Both Gaby and Kieth recall Dick's response to their plans as supportive but precautionary. "He really just asked: 'why?' He wanted to understand what my reasons were, and then he asked me the tough questions like 'how are you going to support yourself?' and 'what are your goals?'" remembers Kieth. In Gaby's case, Dick made sure to recommend safer, non-Ivy League options. Several interviewed alums, all of whom had Dick as their college counselor, characterized Dick's advising style as solicitous and encouraging.
In Gaby's and Kieth's cases, Dick needed to adapt his counseling to expectations set unusually high or in a different direction altogether. Sometimes, though, Dick broadened horizons for students unaware of their options. "For many of my classmates, and for me, Dick opened doors to things we hadn't imagined," says Rick. During his junior year, when Rick and his parents attended their first college counseling session, Dick showed the family a list that included Harvard, Yale, Stanford, and UChicago. "I practically bowled over, and I said 'who did you have this list in mind for, Dick?'" remembers Rick, who ended up choosing Harvard. "His confidence and encouragement were things that paved my future." Similarly, Richard Wolgin '71 had never considered large state universities before Dick put them on his list. However, after further research, Richard chose to attend Penn State and cites the decision as one of the best he ever made.
Despite retiring over twenty years ago, traces of Dick's career as an educator are all over Friends Select's curriculum and student life. As the school's point person for state aid, he procured several textbooks from a state program, a practice which is still in place today. As yearbook director, he rescued the tradition from its costly and often tardy habits. His most impactful contribution, though, was the introduction of humanities electives. Prior to his time at Friends Select, all Upper School history and English courses were required for all students.
When Dick first implemented electives, the process of course selection was quite different from today. Back then, teachers proposed a number of potential topics in which they were interested and students voted for their favorites. This practice was especially popular among students, but Dick saw value in the system for teachers as well. Rather than waiting all summer to teach the same material year in and year out, the course "elections" prompted Dick and other teachers to learn new subjects on an annual basis. This system "kept [teachers] alive," says Dick. "I would have gone nuts if I had to teach U.S. history the same way every year for thirty years." Per his students' votes, Dick taught trimester-long classes in Constitutional Law, Consumer Economics, Political Philosophy, Comparative Government, Sociology, and his favorite, Physical Anthropology.
Dick's former students have used his lessons, both explicit and implicit, in a diverse array of professions. Allen Massiah '69 modeled Dick's balance and consideration as a teacher; Robin Bernstein brought his fairness and open mind to the legal world; Rick Hunt '74 used Dick's teachings in first-draft writings in the business world. Allen, who calls Dick "the kind of person who does the right thing, but doesn't tell you what he's doing," listed eight specific traits of Dick's that portend well to all careers, as well as family life: thoughtfulness, fairness, warmness, openness, preparedness, protectiveness, kindness, and patience.
These traits were sometimes necessary to deal with students like Allen, who remembers his high school-self as "a little rowdy." In 1969, Allen and a handful of other students wanted to miss a day of school to protest the permanent closing of a government-operated free preschool program in northern Philadelphia called "Get Set." As headmaster, Dick consented to the absences, but only under the condition that the students could explain the value of the protest and their attachment to the cause. This approach encouraged students to engage with politics in an educated, considerate, and convictive manner. Likewise, when Christine Piotrowska and other members of the class of 1970 planned to miss a day of school to celebrate the first annual Earth Day with Penn students at Belmont Plateau, Dick and other administrators authorized a school holiday.
Other marks of Dick's tenure as an administrator were born from controversy. As the school transitioned into a new building and new decade in 1970, students opposed their dress code, which stipulated coats and ties for boys and skirts for girls. Dick played a significant role in mediating the debate — of course, more casual clothes are now permitted, provided they don't have camouflage or superhero imagery. Additionally, Dick helped to manage the question of teachers' titles once the term "master" became antiquated.
It is impossible to properly reflect Dick's life and career without mention of his memory. Even after fifty-eight years at Friends Select, he can recall specific students, events, and developments in the school community with stunning accuracy. He remembers the specific rankings of former wrestlers, the dates of major school construction, and the hobbies and talents of ex-colleagues. "He not only remembers everyone, but he remembers everyone who was in your class and the classes before and after you. He keeps the memory and the influence alive at Friends Select," says Christine.
This remarkable memory has aided Dick's creation of Friends Select's historical archive. When the school formally moved out of the old school building in 1967, Dick took it upon himself to preserve artifacts, books, and other essential items from the school's history. In Rick Hunt's view, Dick "keeps the spirit of Friends Select alive." Now, the archive tells Friends Select's story, even before Dick arrived as a "green teacher," as he calls his young self. Earlier this year, Spring Greeney's 9th grade history class began an effort to digitize the archive — Dick, who describes himself as a "technological troglodyte," stuck to physical preservation.
Now, in his free time, Dick enjoys reading, gardening, crossword puzzles, and other small hobbies. However, Dick used to partake in more active pursuits: math teacher Ralph Reinwald, with whom Dick has worked for fifty years, recalls that Dick once stopped by his house en route to an impromptu ski trip several decades ago. At one point, Dick made cameo appearances in several school productions; he has since given up acting.
While respected as a teacher, Dick was also seen as a friend by many students. "He was a teacher who put students first," recalls Robin. In the 1960s, Dick's office became an after-school hangout for Upper School students who sought his advice on school, relationships, and life in general. This time was more casual and personal than the formalized college counseling meetings, and for many, more impactful. Dick was an adult, but he treated students in a way which made them feel sophisticated and appreciated, even inviting groups of students to his home to dine with his family. As Trixie Heck '69 remembers, "he treated [students] like young adults."
This praise for Dick is far from revisionist history: the class of 1969 dedicated their yearbook to Dick, writing: "Master Dick, as teacher, guidance counselor, and administrator, has contributed more to many of our lives than any single influence of our school careers. He remembers what it is like to be a student, and can sympathize with our ambitions, our frustrations, our needs, and through his wisdom shed insight on our problems. He teaches with an inspiration few can forget, and encourages us to use our minds, both in and out of the classroom. But, more than all this, he is a part of us."
About the Writer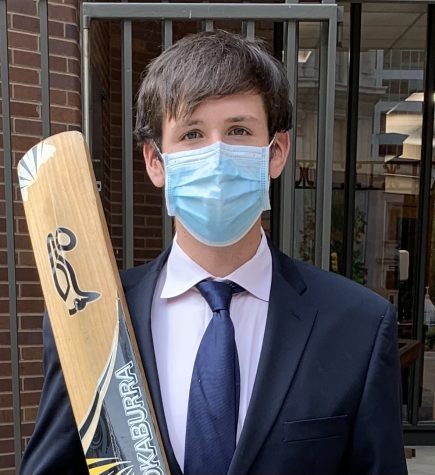 Peter Ryan, Editor-in-Chief
Peter Ryan is a senior at Friends Select School. He currently serves as President of Student Government, Co-Clerk of QUAKE, and founding leader of Cricket...