What You Should Watch This Summer, According to Film Club
Throughout the course of the year, Film Club worked on many creative projects, such as stop-motion animation, slo-mo videos, remaking popular movie scenes, and more. To culminate our year together we came up with a list of movie and TV show recommendations to watch this summer! Read through the list for a brief description of the movie or show, reasons why you should watch it, where you can watch it, and other details.
| | | | | | | |
| --- | --- | --- | --- | --- | --- | --- |
| Recommended By… | Name of TV Show or Film | TV Show or Film? | Genre | Where can you watch it | Brief Synopsis | Why should people watch this? |
| Gigi Sovinski | Pose | TV show | Drama | Netflix | Set in 1980s New York, the show gives you an insight into the ball culture world. Ball culture has 'houses,' a self-selected family for LGBT teens to go who have been rejected by their families. | This show gives great insight into the history of the LGBT community. And Ryan Murphy doesn't miss. |
| Jakob Miller | Ozark | TV show | Crime/Drama | Netflix | A normal family, the Byrds suddenly have their lifestyle turned upside down when they get into trouble with a powerful drug cartel. They move to a remote location where they have to work to pay off debt. | This show has great characters, a great story, and great acting. All three seasons are exciting and suspenseful. Season four is coming out sometime later this year, so you should watch the first three ASAP! |
| Lily Brin | The Wilds | TV show | Drama | Amazon Prime | The show is based around a group of teenage girls whose plane crashed on a way to a 'girl retreat' for girls from various backgrounds who are now stranded on an island. However, they don't know it is part of a social experiment. | The cast is amazing. Feels like a newer version of LOST that is more palatable to teens. |
| Alessandra Yang | Battlestar Galactica (2004) | TV show | Peacock | Sci-Fi drama | Battlestar Galactica takes place 40 years after a revolt by the Cylons, the robot workforce created by humans. The Cylons leave the 12 planets that the humans inhabit, and in the 40 years following, figure out the technology to make human-like Cylons. The show starts when they come back and stage a nuclear attack on the 12 planets, leaving only 50,000 humans who escape on the Battlestar Galactica and a fleet of civilian ships. | No joke, the best show ever made in the drama world. For those who don't like sci-fi, it isn't even really a sci-fi show, it's much more about human nature and war (seriously). If you watch the miniseries first and you're not usually into this kind of stuff (basically two movies that you should watch first before starting the first season), it may take a little bit to get into, but I promise that you will. I've seen it twice already and I would see it a third time in a heartbeat! Also, totally a binge-worthy show. Watch it! |
| Kevin King | Invincible | TV show | Superhero Action/Drama, Animation | Amazon Prime | A teenage superhero gains powers. He struggles with saving the world and his everyday situations. | It's kind of a dark twist on DC and the storyline is strange but it makes sense towards the end. |
| Gigi Sovinski | Moonlight | Film | Drama/Indie film | Netflix, Amazon Prime, Youtube | This movie followed the life of Chiron, a young black man growing up in Miami. It follows his life in three chapters which show his journey growing up and his search for self identity and self expression. | Beautifully shot, amazing story, and won an Academy Award for Best Picture. |
| Zoë Blatt | Kiss the Ground | Film | Documentary | Netflix | This documentary dives into the reasons why earth's soil is essential to fighting climate change. | This documentary was informative and entertaining. It really made me consider the food I am eating and where that food comes from – it prompted me to do a lot of research and change what I buy! |
| Lily Brin | Unorthodox | TV mini-series | Drama | Netflix | An Orthodox Jewish woman flees her New York home in hope of escaping an arranged marriage. | There are just four episodes so you can binge easily. It is interesting and unique. |
| Marshall Searles | Lucifer | TV show | Crime/Drama/Comedy | Netflix | The devil comes to LA seeking an escape from his hellish life and as he is there he finds something else that no one expected. | The show is very fun. It is also easy to get lost in the story with hilarious comedy, intense crime cases, and a deep love story. |
| Jakob Miller | The Night Of | TV show | Crime | HBO Max | Innocent college student Nasir Khan meets a mysterious young woman and his night quickly goes from exciting to horrifying. As he awaits his trial in prison, his innocence slips away while his quirky lawyer and desperate family try to set him free. | This story is followed by two incredible characters, the growth of them and the people around them is entertaining and makes the story great. Great plot and great acting complete this incredible mini-series. |
| Gigi Sovinski | Hollywood | TV show | Drama | Netflix | Actors and filmmakers try to make it in the Hollywood film industry after WWII. | This show captures the difficult process of making a movie and finding success in the film industry. Topics around racism and sexuality are portrayed with historical accuracy. |
| Lily Brin | Atypical | TV show | Drama, Coming of age | Netflix | We follow a family of 4 with many interpersonal dramas. The oldest child, Sam, who is Autistic, tries to find love and succeed in school. And the other child, Casey has sport and love troubles. Parents are a whole other mess. | Very binge-worthy, loveable cast and characters, and it's only 3 seasons for now. |
| Zoë Blatt | The Social Dilemma | Film | Docudrama | Netflix | In this film, you hear from experts in the tech field on the dangers of social media on the individual and society at large. | This docudrama made me rethink my use of social media and better understand the impact of social media in today's world. There are some cheesy dramatics, but the interviews are great. |
| Christian Sun | The Boys | TV show | Superhero/action/comedy | Amazon Prime | A team attempts to take down the Six, a corrupt group of superheroes, and the corporation behind them. | Provides a darker, more satirical take on the superhero genre. |
| Lily Brin | High School the Musical the Series | TV show | Drama, Music, Coming of Age | Disney + | It is a theater program in a high school that is performing High School the Musical. Very teen drama, so cringy that it's good. | The show stars Olivia Rodrigo so you can form an even better connection with her. It's really addictive and has good music. |
| Jakob Miller | I, Tonya | Film | Drama, Sport | Hulu | Based on a true story, infamous figure skater Tonya Harding tells her life story as she grew up under a tough mother and stays involved in abusive relationships as she grows older. As her career is at its peak, her ex-boyfriend plots to injure her opponent. The drama that unfolds after makes her one of the most controversial sports figures of all time. | Behind a great acting performance from Margot Robbie, this story is well edited and well told. There are so many funny and entertaining characters that complete this film and make it one of my all-time favorites. |
Leave a Comment
About the Contributors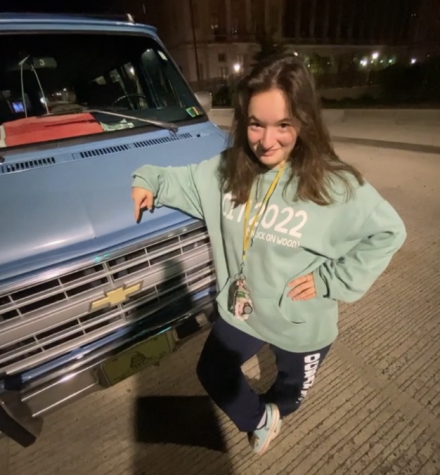 Lily Brin, Editor in Chief

Lily is a senior at Friends Select School and has attended FSS since Pre-K. She is one of the Editors in Chief for the Falcon in addition to leading Gender...