Lucy Rupertus: Basketball Captain, Lefty, and Baker
Lucy Rupertus '23 has played basketball for as long as she can remember. Whether it be through school teams or summer leagues, she always finds ways to be able to play. Even in 8th grade, when her school didn't have a girl's team, she played with the boy's team so she could continue playing the sport she loved. 
Lucy has proven to be an asset to the Friends Select varsity girls basketball team as second highest scorer and co-captain, along with Margot Schneider '22. Although COVID-related stress has been a hurdle, Lucy says she and the team have adjusted well. "Along with the rest of the team, I've been able to [Covid] test fairly frequently which has definitely helped me to feel a lot more safe." 
While Lucy has many defining characteristics, one thing that always seems to prevail through any activity she participates in is her positivity. Before the season had started, Lucy learned that she would be co-captaining with Margot. Margot recalls the moment Lucy first told her this, saying, "There was so much excitement right off the bat, she texted me and was so energetic saying she couldn't wait to be a leader for the team with me and that energy was really contagious." Margot shares how co-captaining has progressed now that the season is in full swing: "I think we just work really well together in that regard… We've learned how to communicate and balance things between us well." In a return to regular, high-intensity basketball, Lucy has managed to keep a positive attitude and strives to improve with every game. Margot says, "She's super positive and always brings a fun energy to basketball practice with lots of jokes, laughs, and left-handed layups". 
Joana Santos 24', a guard for the FSS team, also speaks highly of Lucy's positivity and ability to make others feel included, saying, "She taught me the importance of confidence, especially when playing in front of a lot of people. She's an amazing captain that advocates for the team and supports us through tough drills with her cackling. Overall Lucy is a tough and compassionate teammate and she is even stronger as a captain."
Although she had limited playing time in her first two FSS seasons, Lucy is improving greatly as the winter goes on. Just recently she won the jump ball (with her left hand) against Franklin Leadership Academy. Lucy is passionate about her team and has also enjoyed having spectators when possible. "[Playing again] has been great! I've missed being able to have my parents and grandparents at my games. My mom has always been really helpful with giving me advice after games, so I've been happy to be able to have that again." Lucy also shares her perspective on her personal growth this season: "I think I'm improving this season as a leader and I hope that I continue to grow in this area as the team is very important to me."
Athletic Director and Varsity Girls Basketball Coach Bill Klose, who has seen Lucy progress from her days as the only freshman on the team to a captain, says, "We meet often and talk about leadership skills. That's something that she's going to take into life and other things that she does, we're just using basketball to help her practice those skills and she's doing a great job with it now. She's working hard to improve her game while also trying to help her teammates and that has been going pretty well so far."
Athletics is not Lucy's only passion – she also partakes in numerous other clubs and activities. Along with being a planner for Social Justice Week, she is an active member in The Falcon, Clerks, WAG, and co-leads the Beading and Crafts Club. With so many extracurriculars on top of being a student-athlete, Lucy has to get creative to find the time and energy to complete her everyday school work. "I've been trying my best to make use of whatever time I have between the end of the school day and the start of practice. Sometimes we'll have practice at 4:30-6:30 which leaves me with about an hour to try and get some work done." She also notes the importance of making her free periods as productive as possible. 
In addition to her in-school activities, Lucy also enjoys jewelry making, art, and baking. Now that she is in her junior year, Lucy's passions give guidance to her college search process. "I'm considering looking into schools with culinary programs for college, it's a big passion of mine," she says. She looks to bring her positivity and leadership to her future endeavors, be they on the court or in the kitchen.
View Comments(1)
About the Contributor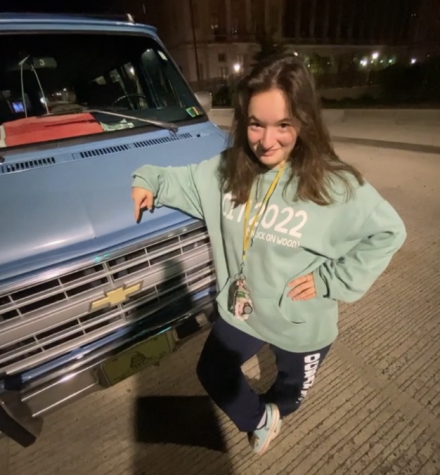 Lily Brin, Editor in Chief

Lily is a senior at Friends Select School and has attended FSS since Pre-K. She is one of the Editors in Chief for the Falcon in addition to leading Gender...