Meet the US Musical Director: Devon Sinclair
The Friends Select Upper School is currently putting on the musical "The Little Mermaid" under the direction of Devon Sinclair. Sinclair grew up in Upper Darby, PA and later graduated from Penn State University. Although he is directing Friends Select's musical, he is also currently working at multiple other theaters including; Theater Horizon, Walnut Street Theater, and Wilma Theater. Throughout his career as an actor, he has played many different roles, some of his favorites being Donkey (Shrek the Musical), Lumiere (Beauty and the Beast), and Bobby (Memphis). When asked about these roles, Sinclair explained, "All of these roles allowed me to blend the characters with my own skill sets in a way that gives the roles more variety." Sinclair has lots of experience and has been directing and choreographing shows since 2017. Some of these shows include Big Fish, Spamalot, and Legally Blonde.
Sinclair learned of the open spot for a director at FSS through Upper Darby Summer Stage, where he and Drama Department Chair Donna Romero are colleagues. Sinclair is a unique director for many reasons, one being that just earlier this year he performed in The Little Mermaid at Walnut Street Theater. Through this, he says "I've gained a strong sense of direction for the show. Ways to storytell through movement, create two distinct worlds (land & sea), streamline our story, and more." Additionally, one of Sinclair's strong suits is his experience with dancing and choreography. "I'm a very physical person so I often bring a lot of physicality to my directing style. So I'm excited to make this production a full-body experience for the cast and give our audience an engaging show!" he explains.
Annalise DiCicco 23', a cast member, notices and appreciates this as well. "Because of his dance background, Devon often brings a lot of physicality into each role really helping actors brings the characters to life," they explain.
Sinclair explains, "I think that our production is going to be a strong showcase of Friends Select's theatrical talents… The Little Mermaid (even the Jr. version) can be a huge undertaking, so making sure that we tackle this with feasibility, purpose, and confidence is a very exciting 'hurdle,'" he notes.
Lucia Yeager-Johnson '23, the stage manager for the musical, says, "Devon always brings a lot of energy and enthusiasm to rehearsals, making even long rehearsals fun!"
In all though, Sinclair says, "Every rehearsal is a highlight honestly. I leave feeling inspired and excited for the students." 
Leave a Comment
About the Contributor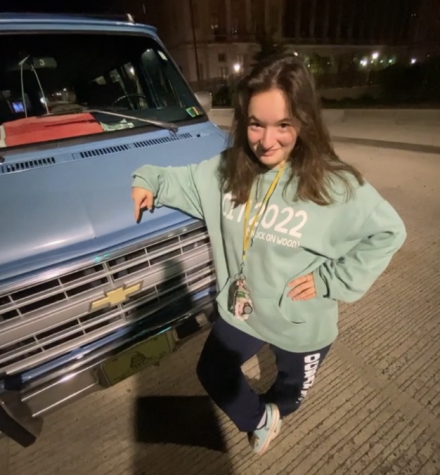 Lily Brin, Editor in Chief

Lily is a senior at Friends Select School and has attended FSS since Pre-K. She is one of the Editors in Chief for the Falcon in addition to leading Gender...