Cappies Review Mamma Mia
Last week, Friends Select's theater program put on Mamma Mia. At the third and final performance on Saturday, more than 15 cappies reviews came to the performance to crique. An explanation of The Cappies were included in the playbill: "The Cappies are a national program which recognizes excellence in theater and journalism.  Each year, students are trained in the art of criticism, attend five high school shows, and write reviews which are considered for publication in local papers. The year ends with a Gala celebrating the best of high school theater. FSS is proud to participate in the Greater Philadelphia Cappies chapter."
Below are two reviews from students of the Academy of The New Church.
Meg Matsukawa
Dance, jive, and have the time of your life at Friends Select School's dazzling production of "Mamma Mia!"
Written by Catherine Johnson and based on the songs of ABBA, "Mamma Mia!" premiered in 1999 and became the longest-running jukebox musical on both the West End and Broadway. "Mamma Mia!" follows independent hotelier Donna and her daughter Sophie, who are preparing for Sophie's wedding on their small Greek island. Sophie, wishing to have her father walk her down the aisle, invites three men from Donna's past to her wedding in order to find him, stirring up heartbreak and hilarity.
With strong vocals, versatile acting, and captivating chemistry, Friends Select School's production of "Mamma Mia!" was carried by the lead vocalists. From heart wrenching ballads to energetic pop hits, a compelling depth was brought to each of the classic songs as the unconventional wedding woes came to life.
Tackling the role of Donna the Dynamo is no easy feat, but with a powerhouse voice and incredible characterization, Annalise DiCicco was up for the challenge. From their lilting emotion in "Slipping Through My Fingers" to their spellbinding vocal versatility in "The Winner Takes it All," DiCicco enthralled the audience. Atia Osborne brilliantly navigated the role of Sophie, bringing the youthful dreamer to life. In addition to her clear, energetic vocals, and enchanting acting choices, Osborne's graceful dancing brought a joyous vibrancy to the production.
Olukayode Ekundare, Monny Caldwell, and Cal Hawkins, who played Sam, Bill, and Harry, added hilarious emotional depth as the trio of fathers. Their brilliant chemistry captured the nostalgia of lost summers and forgotten dreams, each illustrating a unique take on potential fatherhood. With unparalleled energy, Sarah Gorenstein and Lena Kinser portrayed Rosie and Tanya, Donna's best friends. The fiercely independent women brought impeccable comedy to the production – Gorenstein and Kinser kept the audience's enthusiasm high.
Tying the show together was May Colgan's dazzling light design, which effortlessly transitioned the atmosphere from discos to daydreams. Bridging the scenes was the stage crew, whose efficiency appeared almost choreographed. Despite some sound-level issues, Max Andrews handled 12 concurrent mics with commendable ease, allowing the show to run smoothly.
So we say "thank you for the music" to Friends Select School for their dynamic production of "Mamma Mia!", where disco and dreams met in a stunning reminder of family strength.
Maggie Stine
Friends Select School can dance, they can jive, and they certainly had the time of their lives in their production of "Mamma Mia!"
"Mamma Mia!", a jukebox musical by Catherine Johnson and with music by ABBA, follows a single mother, Donna and her daughter Sophie in her taverna on a small island in Greece. After reading her mother's old diary, Sophie, while preparing for her wedding, attempts to discover the identity of her father. Originally produced on the West End in 1999, "Mamma Mia!" took the theater world by storm, now one of the most produced shows in America.
Annalise DiCicco and Atia Osborne gave lovely performances as the iconic mother-daughter duo of the tenacious Donna and sweet Sophie. DiCicco, playing Donna, proved themself to be a dynamic performer, excelling in each of their scenes. Their light and gentle soprano and powerful belt were highlighted beautifully in numbers such as "Slipping Through My Fingers" and "The Winner Takes it All." Osborne, playing Sophie, had a bright and warm presence, not to mention her outstanding chemistry with her cast mates. Her powerful acting and clear voice lended themselves nicely to the beloved character. DiCicco and Osborne played off each other wonderfully, executing a believable and touching mother-daughter relationship onstage.
An enthusiastic band of supporting performers elevated this production. Patrick Ryan, playing Sophie's fiance Sky, infused each of his scenes with pep and charisma. Lena Kinser, playing Tanya, and Sarah Gorenstein, playing Rosie, joined DiCicco in forming the passionate and hilarious Dynamos. The collective stage presence of the principal roles enlivened this show. Alongside the lovely performances by the leads and supporting actors, the ensemble's energy was positively unmatched. Their alacrity in musical numbers, particularly in "Lay All Your Love on Me" and "Gimme, Gimme, Gimme" absolutely filled the stage.
With a talented cast and exceptional lighting, this production was very enjoyable. The cast and crew did a great job of bringing the necessary spirit to this admittedly exhausting-to-perform show.
The technicians of Friends Select School seized the opportunity to showcase their lighting prowess. May Colgan, running lights, illuminated the otherwise simple sets with clever lighting choices and quick cues. The disco-esque lighting schemes brought this production to life. Another notable backstage presence was the swift stage crew, which allowed this production to move at a quick pace.
The students of Friends Select shone both onstage and off. Their vitality and effervescence made this production a joy to watch. Friends Select School, "Thank You For The Music!"
Leave a Comment
About the Contributor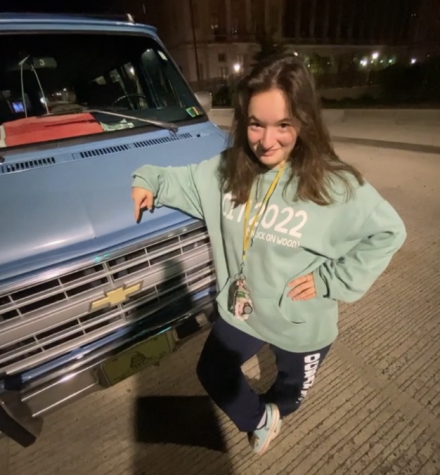 Lily Brin, Editor in Chief

Lily is a senior at Friends Select School and has attended FSS since Pre-K. She is one of the Editors in Chief for the Falcon in addition to leading Gender...