Annalise Di Cicco: Dedicated Artist and Leader
This is Annalise Di Cicco's fourteenth year at Friends Select. With every year they have left a new mark of leadership, kindness, and joy on the FSS community. When at FSS, you can frequently find them in the dojo, the auditorium, leading one of their many clubs, or helping a member of the community.
Annalise is a very vocal senior both through their leadership and music. Not only are they an advocate for their peers, but an amazing singer and performer. As a long-time theater participant, they are very welcoming to newcomers in the community. "I first met Annalise at orientation, and I remember them being super inclusive and nice to me," Atia Osborne '24 explains. "They have a really calm personality, and they're also hilarious. I'm always laughing when I'm with them."
Many people notice Annalise's talent, but Donna Romero, Drama chair, has a unique perspective. Donna has seen Annalise through every play and musical they have performed in and has guided them for many years. "One of the best things about teaching middle and upper school is getting to see a student grow from a child to a truly interesting young adult," Donna says while reminiscing. "One of the worst things is having to let that student go when they graduate. It has been such a privilege to witness Annalise's journey into an incredibly talented and kind young artist, and I am in disbelief that it's almost time for them to leave us and spread their wings."
Annalise is also able to appreciate the longevity of the relationships that have been created over their fourteen years at the school. "I love being a part of the FSS theater department because of the community that it fosters and it connects me with the other grades in the high school." Not only in theater does Annalise play a large and unique role, but in the senior class and other clubs as well.
As many recognize, Annalise is a natural leader. They are extremely talented and serve as a role model to newer people in the theater. "Annalise is definitely a role model in the theater. She is such a talent; seeing Annalise show up and show out during rehearsal inspires me and makes me want to become the best actor/singer I can be." says Gigi Malfitano '23, who is new to the theater in her first year at FSS.
Annalise has many outside of school passions such as cooking and song-writing. For the zoom-musical over COVID, they created one of the pieces, titled In My Mind. This is just one example of Annalise's multi-faceted creativity. Heather Fortune, the music teacher, loves to work with Annalise. When asked what she enjoys most about working with them, she replied, "Everything! Annalise is an amazing musician, and working with them in the music room is inspiring and exciting! They invest fully in all ways as a performer."
As a leader of Qlub (the LGBTQIA+ affinity space), leader of Quake, and a Diversity Clerks clerk, Annalise impacts people outside of theater as well. Quake is the school's Quakerism group that leads Meeting for Worship and other related events. "In Quake, they work with May Colgan to make the entire club run," says Patrick Ryan '24, a member of Quake. This is a testament to Annalise's dedication to all of the activities they participate in. In relation to Clerks, they are attending the Student Diversity Leadership Conference.
Miriam Rock, Annalise's Quake advisor and former English teacher, remarks on a feeling that many express: "I am currently in denial that they are graduating at the end of this year. I don't know what I'll do when they're gone." Annalise has left such an impact on the community.
One piece of advice they give to upper schoolers now trying to figure out their interests is this: "Try things now. Once you figure out what you are passionate about then you can get down your schedule," Annalise says. "The adjustment may seem difficult but we all find a place in FSS high school." While Annalise doesn't intend to major in theater in their college experience, they have expressed deep interest in continuing to participate in theater in other ways. Annalise is one of the most dedicated, fascinating, and hardworking members of the FSS community. If you are lucky, you will get to experience their amazing personality and hear their breath-taking voice.
Leave a Comment
About the Contributor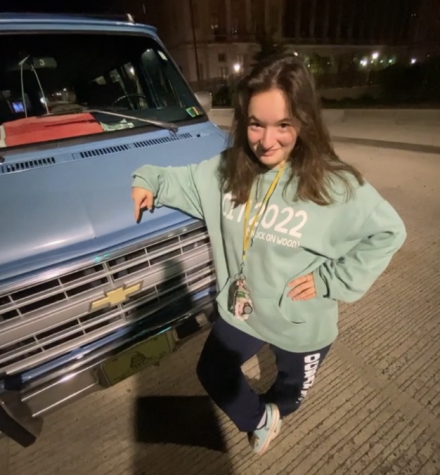 Lily Brin, Editor in Chief

Lily is a senior at Friends Select School and has attended FSS since Pre-K. She is one of the Editors in Chief for the Falcon in addition to leading Gender...