Friends Select's Little Giant: Mia Cohen '21
Chances are, you'll hear Mia Cohen '21 before you see her. Standing exactly five feet tall, Friends Select's napoleonic softball and field hockey captain is not an obvious choice as a major presence on her athletic teams. However, through passionate play, sedulous work habits, and vocal leadership, Mia has earned a reputation as one of the most accomplished and respected Falcons in recent memory.
Mia is often praised for her confidence. However, she wasn't always so outspoken. When she came to Friends Select in Kindergarten, she was shy and quiet, which she notes "may be really hard for a lot of people to believe now." Indeed, her close friend Carly Siegel '21 remembers that as a young student, Mia had a fear of mascots that was so intense that her teachers had to forewarn the Falcon not to come to their classrooms. That year, her kindergarten teacher Amanda Pitt helped her to branch out and find her voice in the community. Mia cites fourth grade as a major turning point in her growth into her self-confidence. She says that Hal Morra, who she still calls her favorite teacher at Friends Select, "took so much time to get to know his students and incorporate what they liked into his classes" in a way that helped Mia "learn that [she] really [is] a really strong leader."
Softball also played a critical role in Mia's development as a person and leader. After years of watching and following the Phillies and the MLB, she finally began playing in fourth grade, when she says she "fell in love with the sport and what it meant to be a part of a team." Athletic Director Bill Klose, who helped Mia train individually for years before officially coaching her on the varsity team, remembers that Mia worked on her swing, balance, and other skills before most other girls had given much thought to playing softball. "Mia started falling in love with softball at an early age when we started talking more and more about the sport and how cool it will be when she plays varsity," he says.
By the time she began middle school, Mia had already grown into leadership roles on her teams. Her current teammate Margot Schneider '22 recalls that on her first day of field hockey practice in fifth grade, Mia approached her as an older player and insisted that the two become friends. "As one of the youngest players on the team, I really needed a friend and she just became really comfortable and natural around me," Margot says. Mia and Margot have since become close friends away from the field and have both received athletic awards from both the school and the Friends League.
Mia says that older student athletes taught her how to "lead without making other people think that I'm just being mean to them or bossing them around." She also points to her dad as a major role model in sports and leadership: "he really drilled into my head the importance of playing on a team. He made sure I understood that the name on the front of the jersey is always more important than the name on the back," she says.
Now, Mia starts as both a pitcher and center fielder for the varsity softball team. In the 2019 Friends League semifinal, Mia pitched through a tough stretch to lead the team to an upset victory against the George School. "I was about to get pulled [from pitching] at the end of the game, but I got back into my rhythm before Bill could get me out," says Mia. The next day, Friends Select defeated Shipley 9-2 to clinch their third Friends League Championship. That season, Mia also threw a perfect game against the Little Flower Sentinels.
These on-field contributions are matched by Mia's presence as a leader. "Mia leads in everything that we do. She shares the spotlight as well as the blame," says Bill. "Mia always finishes every drill and exercise with full effort and sets the example that anything less is unacceptable in our program." As she's grown into a team veteran, Mia has taken on the responsibility of mentoring young players and serving as an extra coach at practices. Bill adds that although Mia has developed into an all-Friends League player, she has grown most in her leadership skills. "We have focused on her leadership and caring for her teammates from day 1. I knew right away that she was going to be a special captain for this program," he says.
"I think that it's really important as a leader to set an example and create a positive environment," says Mia. "In the middle of practice, if I see something isn't going well, I'll go to a coach and ask to interrupt the drill and get together as a team to right the ship." After she graduates, Mia hopes to be remembered as a leader and a positive role model for her younger teammates.
Like so much of her athletic career, Mia's playing style is partially defined by her size: "I'm a small pitcher, so I pitch to contact. I don't throw too hard — I try my best to spin the ball and change my speeds to make up for that," she says. Due to this approach, she has often depended on excellent defensive play from her teammates in the infield. Despite finding success as a pitcher for Friends Select, Mia sometimes wishes she had pursued a position traditionally played by smaller players. "I have no idea who thought it was a good idea for me to pitch. I wish my dad had told me to be a catcher," she jokes.
Rachel Luce '21, Mia's teammate and longtime close friend, says that Mia's short stature actually benefits her play, giving her a low center of gravity and quick reaction time. "Since Mia isn't the tallest, she makes up for it in speed," Rachel says.
As a hitter, one of Mia's strengths is her discipline at the plate. In her first two seasons, she has recorded nineteen walks and reached first base in more than half of her plate appearances. With just an average season, Mia would finish her Friends Select career in the top seven of hits and runs scored in school history, even without a junior season. Bill attributes much of this success, both on the mound and at the plate, to Mia's meticulous and highly self-critical practice methods: "[Mia] often comes into the building on a random Saturday in the winter and pitches after I finish basketball practice," he says.
Outside of school, Mia usually plays in center field for the Phillies Urban Youth Academy. "Center field is my favorite position because it feels natural and I love just running around. My dad and I used to go to the fields and just practice fly balls forever," she says. Mia has traveled with her club team to national tournaments at the 2018 and 2019 MLB All Star Games. According to her teammate and close friend Ang Sannicandro, Mia "is the funniest one [on the team] and the team hype-woman."
Carla Hudson, Mia's coach for the Phillies Urban Youth Academy, observes the same diligence and tenacity that Bill noted: "she's always the first to do whatever it takes for the benefit of the team. First to show up and last to leave — the world could use more Mia Cohens!" Carla says.
Mia has also started on the varsity field hockey team for her entire high school career. Despite starting as a defender, she switched to forward out of necessity in the middle of a game during her sophomore year. This change was a success and permanently altered Mia's role on the team — her primary responsibility is now to initiate offensive play and put the ball in the back of the net. "It's a hard position to play for a short person — a huge girl will be on me and I'll have to elbow and push my way open," she says.
Off the field, Mia most enjoys classes in the English department. "English is probably the subject in which I'm strongest, and I think that's because all of my teachers have pushed me a ton," she says, observing that her writing has improved significantly over the last four years. Now, her favorite class is journalism, as she prefers reporting to analytical writing. She adds that although she isn't a natural mathematician, her math teachers have inspired her to appreciate the subject.
Mia's coaches and younger teammates anticipate that her leadership and work ethic will impact her teams after she graduates. "My friends and I all look up to her and want to be like her when we're seniors. She's kind, hardworking, and talented," says Zoe Siegel '24.
Margot summarizes: "the softball team has a certain culture, and Mia embodies it completely."
Next year, Mia will attend the University of Michigan, where she hopes to play club softball and study Sport Management in the school of Kinesiology.
About the Writer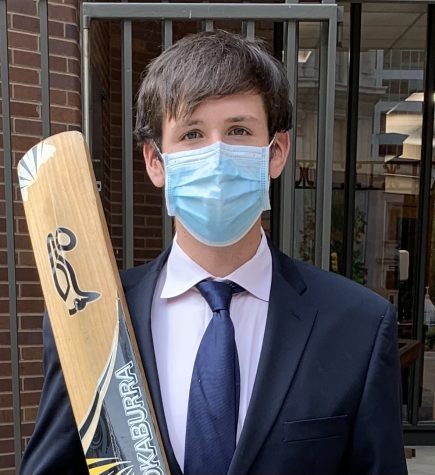 Peter Ryan, Editor-in-Chief
Peter Ryan is a senior at Friends Select School. He currently serves as President of Student Government, Co-Clerk of QUAKE, and founding leader of Cricket...