March 13th 2020 at Friends Select School: a Retrospective
On Thursday, March 12th, 2020, a handful of juniors periodically exited the Upper School STEAM lab with drained faces and pale eyes. Inside was the single most scary thing a teenager could encounter during the second week of March: an adult with information about the medical and societal effects of COVID-19. Amidst the naive celebration of what many students thought would simply be an extended spring break, STEAM Director Mike Primo laid out what the coming months might actually look like.
In a class earlier that afternoon, Mike remembers he had heard students discussing "something to the effect of 'they're saying I have to sit in my house with my family and not see my friends and only hang out with my family every month. They're wrong about whether or not I'm gonna do that. I would literally die.'" However, Mike had been following the virus since a Friends Select student visiting their family in China had been quarantined outside of the United States in late January. As he paid attention, the warning signs became harder to ignore. "Sometime in early February, I thought, coronavirus is going to make our daily lives unrecognizable in a little while," he says.
Listening to his students make plans for group events in the coming weeks, Mike "felt the need to tell them that they were far below the level of seriousness they needed to have about a potentially life-threatening virus." He described how COVID-19 attacked immune systems, left lingering health consequences, and ultimately killed some victims. He explained that when hospitals are overwhelmed, everything we take for granted about hospitals goes away. As the information started to sink in for students, their jovial attitudes disappeared.
"I remember that engineering class as the moment when I started to take COVID-19 seriously," says Taariq Mbaraka '21. "I remember Mike's face got really red when I said that I'd probably still go out. He told us it was going to be a hard time… essentially, we were entering the next plague."
Shellshocked, the engineering students walked out into the hallway and encouraged their friends to talk to Mike. One by one, over a dozen juniors ended up receiving Mike's seemingly apocalyptic warning. "Before that talk, I had seen my parents stock up on toilet paper and I thought it was a little silly," says Ethan Pastor '21. "After Mike talked about the virus, I realized I was going to have to take it a little bit more seriously."
Mike's admonition came at a turning point for Americans — the moment at which coronavirus shifted from a punchline and afterthought to a lethal illness that would take 500,000 lives. That afternoon, students and faculty retreated to their homes, unaware that they had just shared their final day as one cohesive community.
*************************
Although the true gravity of the impending pandemic didn't prompt any changes in school policy until the beginning of March, there were subtle warning signs in the preceding month: a handful of Chinese students had difficulty re-entering the United States after flying home for Social Justice Week; whispers about a rumored case at Penn Charter developed into a legitimate local news story on January 27th; English teacher Suzanne Morrison relayed stories of widespread closure and panic from her sister in Seattle, which was one of the first virus hotspots in the United States. Soon, the school began advising students to wash their hands frequently and avoid sharing food. In the last week of February, FSS teachers attended the annual National Association of Independent Schools Conference, which happened to take place in Philadelphia in 2020. Toward the end of the conference, a team of legal experts presented the possible fallout from a global pandemic.
COVID-19 made its first major disruption at Friends Select on February 28th, just hours after teachers left the NAIS conference: the school canceled an upcoming student trip to Ireland. The trip, scheduled to span from March 1st to 18th, was indefinitely postponed due to "the possibility of border closures, travel bans, possible quarantines, and other measures that could keep our students and faculty from easily returning," said Chris Singler at the time. A student trip to Frankfurt, Germany scheduled for Spring Break was also postponed. Over a year later, Chris remembers that some parents called the decisions "premature and crazy."
After the NAIS conference, Chris held a special faculty meeting to discuss potential scenarios concerning the coronavirus. The meeting included information on a group video call service called BigBlueButton, virtual classes, and other critical information for at-home learning. "Even then, people wondered whether or not [a shutdown] could happen. All I said was 'I don't know, but it looks like it could,'" says Chris.
Even as administrators rushed to prepare a virtual learning schedule and some prescient faculty braced for the worst, most students went about life as normal. During the first week of March, the visual art department hosted the Sights on Site exhibit at the Philadelphia Free Library on the Benjamin Franklin Parkway. On Tuesday, March 10th, students, faculty, and families crowded into World Cafe Live for the music department's annual performance. Spring sports practices, complete with shared equipment, bus rides, and celebratory high-fives continued into the final week of school.
On the morning of Monday, March 9th, the beginning of the final week of school, the Upper School administration hosted an assembly to demonstrate how students might use video conferencing platforms like BigBlueButton. "I remember Chris' face appeared on the screen in the theater and it was huge," says Izzy Ebede '21. "Everybody was laughing. It was comical." Throughout the week, students spent class time spreading throughout the school building to experiment with BigBlueButton, laughing at the suggestion that students might actually take classes from home.
By Wednesday, fear of the virus had materialized to the point that Quake strongly considered canceling Meeting for Worship to avoid crowding the entire student body into a single space. Before Meeting began at 9:25, Quake clerk Arley Johnson '20 requested that students space themselves around the meetinghouse to avoid close contact between students. "Nothing leading up to the pandemic was as eerie or scary for me as that Meeting for Worship," says Matt D'Annunzio '20.
Friday, March 13th was originally scheduled as a major date on the Friends Select calendar for a wholly different event: DICE, Friends Select's Day of Inclusivity, Community, and Equity. On DICE, an annual event, students participate in workshops and group discussions about social justice, activism, and identity. After the decision to go fully virtual was made on Thursday, Friday's schedule was revised to ensure that each class had time to meet and outline expectations for online classes before students went home. During the immediate aftermath of this decision, Toni met with DICE student organizers to break the news that DICE 2020 was canceled. Izzy, a student organizer, remembers: "We were sad — we'd been planning the event for months, and to see it all go downhill was sad. At that point, everything was unknown, so we didn't even know if we'd have to plan something online." A box of t-shirts that student leaders would have worn on DICE has now sat in Toni's office for over a year.
Finally, after more than a week of deliberation, the Administrative Council released the news to the student body: Friends Select would enter fully virtual learning beginning on Monday, March 16th. As students felt phone notifications and opened the official notice, a combination of shock, confusion, and excitement reverberated through the Upper School hallway. To Zachary Levine '22, the prospect of an extended Spring Break was pure bliss. "Everyone was ecstatic to hear the news. I remember going around singing the line "school's out for summer" from the Alice Cooper song," he says.
Lucy Rupertus '23 remembers hearing the news from a classmate while she was producing a Tik Tok video with Lita Porter '23. "We obviously weren't happy, but we just treated it as a two-week break. We had no idea of what was coming," she says.
At sports practices that afternoon, students came to better understand the true consequences of a pandemic. Mia Cohen '21 says that her first memory from the last softball practice of 2020 was "tears, tears, and more tears." Despite the celebratory attitude at school, "there was just something about that afternoon that felt like we weren't coming back," Mia says. Rather than working on skills and conditioning, teams cherished their last afternoon together: the crew team ordered a pizza, the tennis team goofed off in ramshackle matches, and the softball team cried together while predicting potential return dates.
*************************
On March 13th, students arrived at Friends Select for one final day before virtual learning began. Although the CDC had already released guidelines on safe practices to mitigate viral transmission, face-to-face interactions were hardly affected. Hugs, high-fives, and handshakes took place throughout the day like they would on any other. In a chorus class on Thursday, students shared donuts from a communal box to celebrate their performance at World Cafe Live on Tuesday evening. Money, clothes, and books exchanged hands with little fear of spreading any illness.
For many members of the class of 2021, COVID-19 wasn't even the primary concern as the world prepared to enter lockdown. Dozens of juniors were scheduled to take their first SAT at testing locations around Philadelphia on Saturday, March 14th. Beginning on Wednesday, March 11th, locations announced cancellations: first were Germantown Academy and Kingsway Regional High School, then Haverford High School and St. Joseph's Prep. Finally, Temple University, where most Friends Select students planned to take the test, announced its cancellation on Friday evening at about 6:00 PM. Juniors Lucy Doss, Izzy Ebede, and Jack Denham spent their last day fully expecting to take the SAT in less than 24 hours. "That Friday, I wasn't really sure whether I'd take the test or not," says Rachel Luce '21. Rather than paying attention to social distancing or hand sanitizer, Rachel spent her first few classes on Friday morning refreshing the College Board website to check the status of her test.
Although teachers led their classes through contingency plans for virtual learning, they shared their students' uncertainty. "No one knew how long everything would last, and some things actually felt unnecessary. I remember how in the dark we were," recalls English teacher and then-senior advisor Miriam Rock. Like many students, a group of teachers, including Miriam, ate lunch together on the 13th and speculated about the impending pandemic.
When recalling their last maskless day at Friends Select, nearly every student noted how pleasant the weather was. After months of low temperatures, winter winds, and dreary scenery, that Friday was 72 degrees and sunny with low humidity. "It was beautiful out. After school, my friends and I went to get water ice to celebrate because the weather was nice and we were getting a break from school," remembers Jessie Littman '21. In a sort of antipathetic fallacy, March 13th was the picture-perfect spring day in Philadelphia.
These conditions contributed to the excitement and lightness that permeated the school. The Technically Theater class, which met at the end of the day on March 13th, went outside to take advantage of the weather, says C.C. Servon '21. "We were just sort of hanging out, enjoying the first day of spring, talking about movies, trying to get other people to come out," she says. This lightheartedness was shared by many that afternoon, even for those who were unsure of what might come next. Students excitedly discussed how they might relax with the extra time off, and multiple quarantine movie clubs were formed in the closing hours of the day.
As the day wore on and farewells loomed, the Upper School hallways assumed a more somber air. Advisories, which met to empty lockers for a deep clean before the extended Spring Break, reminisced on their favorite memories from the school year. The hallway was littered with course selection pamphlets due at the end of the day, and a few trash cans were temporarily moved to collect students' excess paper, packaging, and food waste. Unsure whether to laugh, cry, or panic, students trudged along in nervous chatter.
This solemn aura was especially pronounced in the senior hallway, where students pondered whether or not they would ever share another day of school together. "I remember Tal (Lesnik '20) was crying," says Arley. "It was pretty surreal — a lot of people thought she could have just been overreacting. At the time, I didn't think much of it." Matt recalls lots of goodbyes, especially with students returning to their home countries. At that time, there had been no announcement of plans for prom, graduation, the spring fair, or any other milestone events for the senior class.
However, even among a group of students who feared they might never see each other again, many had a comical outlook. "We definitely thought it was more satirical than somber," says Zoe Tzanis '20. Students sprawled across the floor and laughed at rotten food and funny notes taken out of lockers and presented to the grade.
Finally, at 3:00 pm, students, faculty, and staff headed their separate ways. In the same hour that President Donald Trump declared a national state of emergency in the White House Rose Garden, students spent quality time together before several weeks of isolation. Jessie and her friends went to Rita's; Matt, Alec, and Minas Macos '20 went to dinner together; Jakob Miller '23 and a handful of sophomores made a final Wawa run. "We ate our food, said our goodbyes, and all went home," recalls Jakob, capturing the anticlimactic nature of the day.
*************************
No matter what they were doing, everyone remembers where they were on March 13th, 2020. Although it was frantic, confounding, and at some points deeply unsettling, that Friday is now regarded as the last "normal" day before the Friends Select community, and the rest of the world, was turned upside down by the defining global event of recent years. One year later, we still haven't gotten anywhere close to whatever that "normal" was.
About the Writer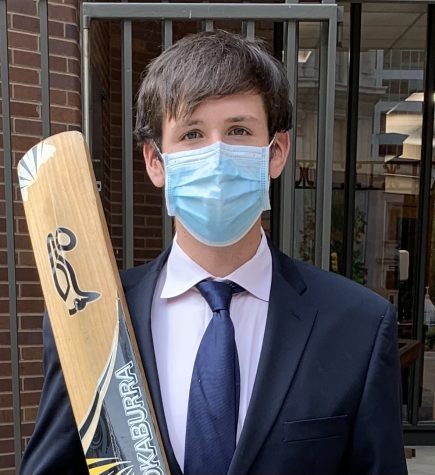 Peter Ryan, Editor-in-Chief
Peter Ryan is a senior at Friends Select School. He currently serves as President of Student Government, Co-Clerk of QUAKE, and founding leader of Cricket...