Friends Select Varsity Softball 2021: Leadership, Humor, and a Strong Team Bond
The 2021 softball season was a highly anticipated one, after a year off due to the pandemic. Only 5 out of the 18 players had ever played in a varsity game before, and it was unclear if Friends Select would continue its well-known success in the Friends School League. However, with six practices a week coupled with the commitment and drive from both the players and coaches, there were few disappointments. Including the playoff record, the team ended with a record of 13-4. Along with these successes, 5 individual team members were recognized by the Friends School League and as All-League Players and received awards: Sofia Solari-Paravicini '23, Samantha Giganti '23, Margot Schneider '22, Mia Cohen '21, and Annie Rupertus '21. As members of the team this year, we were excited by the chance to reflect through the lens of this article, as were all the interviewed athletes and coaches.
With sports during the covid pandemic, one covid case had the potential to derail the entire season. However, league rules were properly enforced by Coaches Bill Klose and Carl Trainer to keep the team safe and permit the team to play every game scheduled. "We had to change the way we practice, travel, and play. So much time and energy was dedicated to following our school and league protocols that I wanted to be flexible with the players since they had to do so much extra this year," Bill notes.
At the beginning of the season, each player was asked to commit to however many practices they could reasonably attend each week. Many could only attend a couple of practices a week, whether it be for pandemic safety concerns, busy schedules, or previous commitments. However, not too far into the season, everyone committed to coming in most if not all days. This was just another building block that led to such a bonded and strong team that was ready to make up for lost time. "For me, there was such a hunger to get back on the field," says Mia.
Another hurdle thrown at this team was its very young lineup. There was a bit of weariness with 13 of the 18 players being underclassmen and 8th graders. Due to the previous gap year, there was continued uncertainty around who would be playing and starting in which positions. "With such a young roster, you need to rely on your veterans. We started the season 5-3 and had just gotten mercy-ruled in a league game. Most teams would have packed it in and continued on their average way. Our leaders weren't okay with that and made sure their younger teammates knew they wanted more… Even though some of those leaders are moving on, they instilled the work ethic and expectations that come with being on the softball team. I have no doubt that we'll be back in the championship because of what this team did for each other," notes Carl.
Rachel Luce '21, one of four seniors and the proud 8th string pitcher, says, "I had the chance to be the kind of older teammate I had when I first came to the team. I also wanted to be the kind of leader that people didn't have to be scared of when they're confused about a play." Many people had fluctuating roles and positions, but the team showed extreme flexibility this season.
After this aforementioned loss, the team decided 'no more losses for the rest of the year,' and went on to finish out an undefeated regular season. Mia notes that at this halfway point, "things started to click. Everyone started understanding their roles on the team and people started stepping up."
The team was seeded #2 for the playoffs. The first playoff game was against Friends Central School. After competing neck and neck for its entirety, the game ended with a dramatic and controversial dead ball call, allowing Mia to score the winning run. Lena Piven '25 recalls "everybody rushed out onto the field" to celebrate afterward.
The team then advanced to the Friends School League Championship, where the season closed with a tough but well-fought 8-2 loss after a full 7 innings against The Shipley School.
Though the season did not close in an ideal way, every member of the team had their own personal takeaways and felt grateful for the chance to play. "I think I will just miss the excitement and pride of being a part of a team and knowing every day that I get to practice or play in a game," says Mia, adding "I owe my love of softball to Bill… I will just miss so much being coached by him."
Rose Levine '24, along with many of the younger players, expresses the importance of the team bonding and sportsmanship aspects of the season. "The highlights of the season for me were just going to every game, the awesome conversations on the bus, and getting to just cheer everyone on," she says.
Carl names his season highlight as making it to the championship, but also emphasizes the presence of humor and a strong team bond. "I'll always laugh when I remember Sami or Scarlett (Schneider '24) tossing me a rubber practice ball and saying 'hit this one to Rachel.' Big Rach's disgusted reaction to seeing [the ball] was priceless," he jokes. Any member of the team will agree that the practice ball hatred became a beloved running joke to all.
To Bill, it became very evident this season that every player was constantly balancing softball with many other aspects of their life, like schoolwork, personal matters, internal anxiety, or physical injuries. "To get to play softball together for a few hours every day is special! I know that when you all show up, you are making a choice to be with us and you deserve my best when planning and preparing practice," he says. Looking to next year, the team goals will remain the same. 14 varsity players will be returning, and "expectations around the team will be high. We'll make sure to stay focused."
Bill summarizes with "a final thank you to Annie, Maya (Brand '21), Mia, and Rachel. Those four seniors dedicated so much to this program, and their legacy will be here for years. They brought a championship to FSS (in 2019) and taught younger players how the Falcons prepare to compete."
Leave a Comment
About the Writers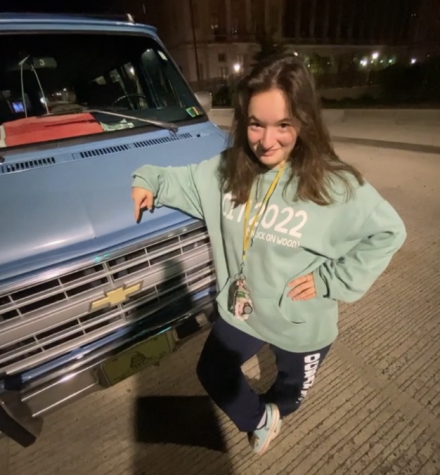 Lily Brin, Editor in Chief

Lily is a senior at Friends Select School and has attended FSS since Pre-K. She is one of the Editors in Chief for the Falcon in addition to leading Gender...