Hybrid Learning Alters Lunch Plans for FSS Students
This fall, the dining hall is closed during lunchtime due to concerns surrounding the spread of COVID-19. Without a convenient and centralized space to purchase and eat lunch, students have found a number of new spaces to eat during the school day. Although Friends Select has provided each student with a designated classroom, students who prefer to eat with their friends now eat outdoors.
The plaza, traditionally used for lunch exclusively on all-school barbeque days in the spring, has become a hotspot for student dining, as has the roof. Because these spaces are outside, students can comfortably and safely face each other while they eat. Multiple groups of students, primarily upperclassmen, can gather separately on different parts of the plaza and roof, allowing for mixing between social groups..
Students who eat on the plaza and roof give mostly positive reviews. "I think [eating on the plaza] really creates a community feel, and I especially love spending more time outdoors now that many classes are partially or completely on screens," says Margot Schneider '22. Sometimes, though, windy conditions make these dining spaces undesirable: "Friday was sort of cold, so a couple of friends and I went to a classroom," says Sofia Solari-Parravicini '23.
Some students have elected to bring their own lunches rather than buying from a restaurant every day. Joana Santos '24 has turned this new method into an opportunity to spend time with family, saying: "normally my mom and I make my lunches." Alessandra Yang '22 eats with her dad during the hour-long break: "So far my dad has brought takeout from restaurants around town on either his Vespa or his bike and we eat together on the plaza," she says. If students have free time surrounding their lunch period, they often simply choose to go home for lunch in order to declutter the school building.
Many freshmen have chosen to bring their lunch from home because they do not yet have building leave privileges. Although offering building leave to freshmen would decrease activity in and around the school building, the Administrative Council hopes to see the class of 2024 demonstrate sufficient responsibility first, according to Erin Pratt. Freshmen traditionally must wait until the second semester to gain building leave, but the Administrative Council may reevaluate as soon as early November.
To make up for the lack of food conveniently provided on campus, the school has enlisted the support of two catering companies, 12th Street Catering and Yumble, to deliver affordable dining options at lunchtime. A SweetGreen outpost has also been added at the front entrance for faculty and student use.
When asked what restaurants they most frequently patronized, students listed Wawa, halal carts, and Cafe Cret. Students who leave campus for lunch often eat in parks or school-provided outdoor dining spaces.
Eventual changes in weather and temperature will force the community to revise their lunchtime plans. When outdoor dining and travel are inconvenient, most students will have to eat inside, bringing their own lunch or purchasing from catering options. While this is the safest option, it may lessen the stress relief that lunch currently provides. "I understand needing to control where people go, but it's a little annoying because I won't be able to eat lunch with some of my friends," says Sarah Goldberg '21. However, she notes that enjoyment may be a necessary casualty of the pandemic: "Lunch during COVID is tricky, like everything else."
About the Writer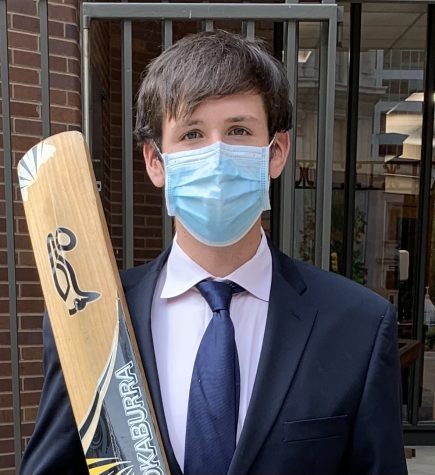 Peter Ryan, Editor-in-Chief
Peter Ryan is a senior at Friends Select School. He currently serves as President of Student Government, Co-Clerk of QUAKE, and founding leader of Cricket...