Opinion: Harry Styles Album 1 VS Fine Line
Harry Styles by Lily Brin
Imagine you have been a hardcore One Direction fan for as long as you can remember. The last time you heard new music from your favorite member, Harry Styles, was November 6th, 2015, when the band released the song History. You have heard him sing since then but have not received any new content. It has been two years, One Direction is broken up, and you have been longing for new music. Then, out of thin air, the song Sign of the Times drops on April 7th, 2017. You never knew music could be this good, this life-changing, and this inspiring. Only one month later, he drops the self-titled album, Harry Styles. The world you once knew was now forever altered. This is the story for many fans of One Direction and Harry Styles fans alike.
My journey to the Harry fandom goes a little differently. I was never a huge 1D fan — I wanted to be different and quirky, but when I had matured a little and Harry dropped his album, I knew I had to lose my ego. He is undeniably an irreplaceable force in the music industry and he makes that known in his first album. In fact, he broke records for best-selling first week by a British male artist's debut album on the Billboard 200.
The album's tracklist goes as follows: Meet Me in the Hallway, Sign of the Times, Carolina, Two Ghosts, Sweet Creature, Only Angel, Kiwi, Ever Since New York, Woman, and From the Dining Table. HS1 holds some of my favorite Harry songs of all time: Kiwi, Only Angel, and Carolina (although those picks change regularly depending on my mood). This album is the first independent work that Harry produced after One Direction. He was exploring himself as an artist and as a young adult in the brutal entertainment industry. These conditions made this album so unique as he was coming from being in a hit band and then transitioning to going solo. The songs on the album are like no other. I can listen to them countless times and each time hear something new. The songs pull out so much emotion and really get the listener thinking deeply without even realizing it. 

While Fine Line, his second album, is an impeccable piece, it has simply never quite measured up for me. Something about this first album is so raw and true and I can never get tired of it. Additionally, I feel as though some songs on Fine Line such as Watermelon Sugar and Adore You have been overplayed to the point that it leaves an unsatisfactory feeling. In HS1 there are zero skips. While I do find myself skipping some songs on Fine Line, I still love the album as a whole.
Fine Line by Lena Kinser
The year is 2019, no captivating songs have been released, so you listen to One Direction. As you shuffle, songs from Harry Styles' first album play. While HS1 is extremely well done, you're craving something new in hopes of hearing Harry's sound branch out from One Direction. Then, on October 11, 2019, you're in the car and you hear Lights Up by Harry Styles on the radio. Harry released his second album, Fine Line, on December 13, 2019.  It symbolizes the new era that Harry was entering, departing farther from his One Direction days and deeper into his solo era. Fine Line shows the growth of Harry's songwriting and vocal talent.
His happy songs in the album are Treat People with Kindness, Sunflower Vol 6, Canyon Moon, Watermelon Sugar, and Adore You. In these tracks, he pulls from personal memories and adds imagery so the listener can clearly depict all of the lyrics. The songs with heartbreaking lyrics but delighting beats include To Be So Lonely, She, Golden, Cherry, and Lights Up. If you pay close attention to these songs, you can hear those tragic lyrics. An example would be in Golden, when Harry sings, "Know you were way too bright for me, I'm hopeless, broken, so you wait for me in the sky." The remaining songs, Falling and Fine Line, have gut-wrenching lyrics and melodies. Falling mentions Harry's own experience with sadness and a breakup where he and the person are now disconnected. One agonizing quote from Falling is, "It kills me 'cause I know that we ran out of things we can say." One painful line from Fine Line is, "Put a price on emotion looking for something to buy." My personal favorite song on the album is Fine Line because it starts off slow and sad then builds over time into a powerful and more upbeat song. In The chorus of Fine Line, he repeats the words "we'll be alright". This album shows the connection to his fans, and how everything in life is never perfectly happy or sad.
Harry received a lot of recognition for this album. For reference, Harry released Fine Line when he was 25 years old. Within the first week that Fine Line was released, it received 108.7 billion streams. Harry created 4 music videos for this album which were for Treat People with Kindness, Golden, Watermelon Sugar, and Adore You. The Adore You music video was nominated for Best Music Video. Watermelon Sugar won Harry a Grammy for Best Solo Performance. Additionally, when Harry released his tour dates he sold out. Harry also appeared on the cover of Vogue.
Throughout the progression of Fine Line, Harry has grown more comfortable with who he is as a person and his songwriting abilities. This album allowed him to communicate how he was feeling and help many to connect with their own emotions. He became more recognized with this album, causing him to grow more in the public eye. Harry has also stated that this album was a learning experience for him as he tried new techniques vocally. From personal experience, I have fallen deeply in love with this album because the songs radiate comfort and I can relate to certain songs more than I can in his first album Self Titled. In conclusion, that is why I have a strong connection with Fine Line and think it is one of the best-crafted albums of all time.
View Comments(1)
About the Contributor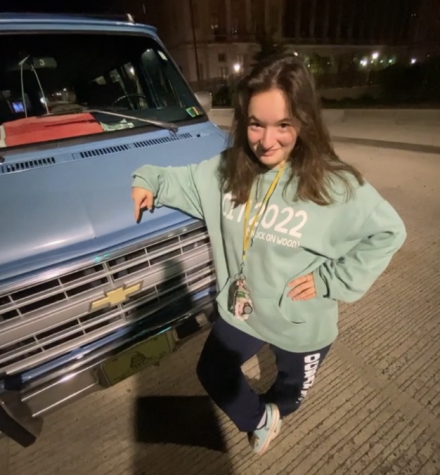 Lily Brin, Editor in Chief

Lily is a senior at Friends Select School and has attended FSS since Pre-K. She is one of the Editors in Chief for the Falcon in addition to leading Gender...