Rebuilding FSS Athletics: Athletes Return to the Fields
In 2020, when COVID-19 broke out, Friends Select's athletic programs shut down, first temporarily and then indefinitely. Beyond the many other pandemic-associated stresses, student-athletes experienced an additional challenge: their physical outlet was taken away from them.
Athletic Director (AD) Bill Klose says, "For so many students, athletics is a way to vent out frustrations from their day, experience positive feedback … socialize with their friends, and so many other benefits that we [other AD's] are noticing."
Now, after over a full year of irregular or shortened seasons, athletics are back in full swing and have a completed season in the books.
Many community members were committed to getting athletics back into gear this fall, on and off the field. Bill had multiple meetings over the summer with other Friends School League AD's to plan for the best ways to keep infection rates down and have the most successful and safe seasons possible, especially as Delta variant cases rose. Bill explains, "Plans needed to be adjusted again as we moved closer to the fall and the situation moved backward a little, but the vaccine has been a tremendous help in our planning." He also had help from the school's health advisory board. Bill says they have "been a great support system for me and other AD's as we planned to have even more sports and competitions this fall although we are still competing through a pandemic."
As sports came back to a complete regular season this fall (with the exception of masks on bus rides), it was unpredictable how teams would perform after the year and a half off. The lineups had been vastly changed from the 2020 spring and 2021 fall seasons, but players quickly acclimated to the new conditions and had incredible seasons. Quaye Agoyo '22, a member of the cross country team, says that the 2021 season was actually the most successful in years. "We had some nice wins and lots of people improved their times… To keep the spirit up I just showed up ready to work hard every day and tried to make sure we were all on the same page. We all encouraged each other on runs and during races," Quaye says.
The field hockey team, like cross country, had a very successful season. Team co-captain Margot Schneider '22 says that sports being back in full swing brought an unanticipated sense of stability. "Last year I felt like I was always doing work, thinking about work, and using technology. But now I knew that at 3:10 at the end of every single day I went downstairs, got ready to practice, and came up to practice for 2 hours." 
Students weren't the only ones who benefited from sports returning. "It felt great to be able to have a full season again! I'm extremely happy to have seen everyone all together in one place and participate in a sport that we all enjoy. I could definitely feel that the team was eager to play this year," says Field Hockey Head Coach Emily Gallagher. 
Soccer Head Coach Barry Lynch shares similar feelings. "It has been incredible to get back out onto the pitch. I have missed going through the motions of a full season. Getting the team together for pre-season, building team unity, and then seeing them all improve game after game." 
While athletics have clearly been immensely beneficial to student-athletes and coaches alike, stumbling blocks have arisen as everyone adjusts to going back to semi-normal. Behind the scenes, Bill says there were obstacles to overcome such as shortages of bus drivers and officials for every sport.
Additionally, coaches had to maneuver with new lineups, personalized levels of fitness ability across a myriad of athletes, and students who in some cases haven't played their respective sports in nearly two years or ever before. Barry reflects, "While this was the most competitive we have been in the league, this season has also been a rebuilding year."
Emily adds, "I think it was a challenge to get back into 'competition mode' since we haven't played an actual game in two years."
The return has also been a major adjustment for students. Quaye says that his schedule is now "a lot more full with sports and school back in full swing. I'm getting home later than I did last year."
Margot also reflects on the physical and mental adjustment of returning to sports while balancing academic work and commitments: "It takes a lot out of you to do a full day of school and then go right to practice and I was tired. I loved it and it brought structure, but it also made things harder because it did affect my energy levels."
In spite of all of those challenges, the teams adjusted and had success in their respective seasons. "After the first few games this season, I think the team was reminded of that competitive spirit that is instilled in us as athletes," Emily reflects.
Bill reflects, "The main lesson has been that we all need to continue to be patient and flexible while knowing that everyone is doing their best to do what's best for our student-athletes."
Leave a Comment
About the Contributor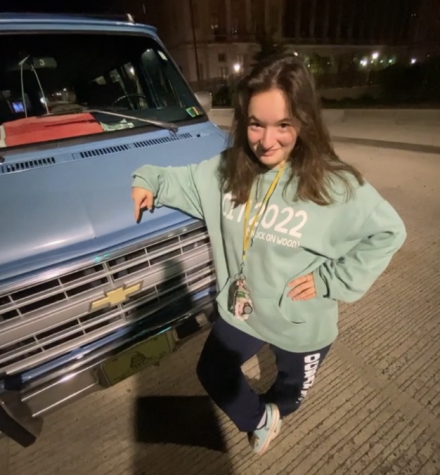 Lily Brin, Editor in Chief

Lily is a senior at Friends Select School and has attended FSS since Pre-K. She is one of the Editors in Chief for the Falcon in addition to leading Gender...