As College Deadlines Approach, Seniors Say Homework is Increasing
High school seniors are under an unparalleled amount of stress. Not only are they working on college applications, but they're also managing rigorous course loads, preparing portfolios, playing sports, acting in plays, leading clubs, and handling out-of-school commitments. 
With so much work on their plate, morale is certainly low in the senior hallway, but all can agree that there's one thing teachers can do to help: give less homework. 
Marina Garagozzo '20 says that the amount of schoolwork she's received recently has been outrageous. "I have four projects due next week and two tests. Every night, I have to decide if I do school work or my applications. It's awful." Torn between the two, Marina feels that both her school work and college work are suffering, and others agree. Kaiyuan Chen '20 thinks, "Teachers are supposed to help students succeed. We need to get our applications done to succeed. With so much homework, it's impossible."
Poli Sotnik-Platt '20 can't seem to get a handle on all of the work she has. "The teachers are giving more homework than I've ever received in my life," she says. "I have to sacrifice my sleep and livelihood to be able to manage college applications, homework, and portfolio prep." Like Marina, Poli wants to do it all, but there just isn't enough time.
For Poli, the worst part is that she doesn't have an adult in her corner. "At the end of the day," she says. "I don't even have a college counselor to look over my essay or edit my supplements." Only days before the start of this school year, Naté Hall, counselor to half of the senior class, left Friends Select to work at Penn Charter. While Director of College Planning, Tracy Matthews, and new, temporary College Planning associate, Kristen Miller, are doing their best to fill this gap and accommodate all students, some, like Poli, still feel as though they've been abandoned at an important time and are uncomfortable with the new changes. "Naté's absence just adds another level of unnecessary stress to an already stressful situation."
Instead of reacting with anger and anxiety, Alec Kane '20 hopes to reason with teachers. "It's too much work," he says. "It's just too much work for so little time. I know teachers are busy, that they have lesson plans and grading deadlines, but I think the senior class is under a lot of stress right now and would really appreciate having a little less homework." However, what teachers assign is up to them. Hopefully, seniors will see a decrease in stress during the second quarter.
About the Contributors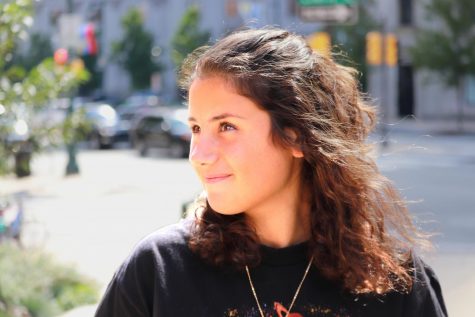 Zoe Tzanis, Editor-in-Chief
Zoe Tzanis is a senior at Friends Select enrolled in the Journalism class and serving as The Falcon Editor-in-Chief. She is interested in history and media...