Upper School's Return to Hybrid Learning: One Month In
Upper School students returned to hybrid school on Wednesday, February 3rd, and the Friends Select landscape has changed a bit since students last attended classes in person in the fall.
For starters, the number of students participating in iSelectLearning full-time has increased dramatically compared to the fall. According to statistics published on The Falcon's Instagram page in January, 38% of students decided to attend school virtually, as compared to about 26% at the end of September.
It's not uncommon for a class to meet with only a few students physically in the classroom — sometimes none at all. After finishing up a class with 100% online students in the first week of February, history teacher Peter Sun remarked that "it feels like there are more teachers in the building than students."
These shifts are especially noticeable in the senior class. In fact, participation in hybrid learning is so low that the administration recently announced that seniors are now allowed to go to school in person four days a week. Only 25 twelfth graders elected to return to the school building in February, with 30 opting to stay home. "When I was in hybrid in the fall, I was in the minority for most of my classes, which made it difficult to learn because teachers tend to pay more attention to the majority," says Jeremy Cohen '21, who is currently participating in iSelectLearning.
In the senior class, the in-person gold group currently consists of nine students, as compared to 15 in the brown group. Jeremy notes that there seemed to be a domino effect where some students switched to the brown group, causing even more students to switch groups or stay home as the gold group became smaller. 
A small group of twelfth graders, including Genevieve Raju '21, have just returned to the school building after being virtual since last March. "I needed to get back on track for in-person school before college," Genevieve says.
More safety measures have also been implemented inside the school building, including an updated community contract and contact tracing devices that students must wear at all times during the school day. However, many students and teachers still feel nervous about going into school. Out of 65 total respondents to a recent Falcon poll on Instagram, 31% of community members don't feel safe in the school building. School during a pandemic inevitably comes with sizable safety concerns; Nandi Bayard '24 says, "I could possibly be risking the lives and safety of myself and my family [by attending school in person]. That can be scary at times."
Further complicating these concerns is uncertainty around student adherence to safety guidelines. While a majority of surveyed community members (63%) believe that students are following safety procedures at school, only 20% believe that this continues outside of school. While Covid-19 spread within FSS remains low, some community members worry that carelessness on the part of students after school and on the weekends could jeopardize the safety of the entire community.
Many students, however, have decided with their families that it's worth the risk to come to the school building considering the extensive safety procedures the school has put in place. "Seeing people has made me way happier," says Lucy Kelley '22. "Getting out of the house and having somewhere to go really helps my mood." Scarlett Schneider '24 agrees, listing "the free times in between classes when you can sit in the hall with your friends" as the reason why she continues to attend school on Thursdays and Fridays.
As expected, students continue to grapple with significant academic and social challenges, even the ones who attend school in person for part of the week. "There's a clear divide of attention from teachers between in-person and virtual students," says Rachel Luce '21. Many students note that virtual days have proved especially difficult since hybrid learning resumed, with 74% saying that they feel more academically supported on in-person days. Margot Schneider '22 says that "it's hard to stay engaged at home…it's a much more interactive, high-energy day in person."
Overall student preference for in-person days is emphasized even more when social concerns are factored in: 89% of surveyed students reported feeling more socially supported on in-person days. Isolation and disconnect from friends and peers are commonly noted in student comments about the downsides to the hybrid learning environment.
For virtual students, the challenges of hybrid learning are often exacerbated. "I've been in iSelectLearning since last year, so I'm definitely starting to feel a little restless," says Quilana Castro-Cardona '21. "I do wish others were taking things more seriously so I could get just a little bit of normalcy." Some students, like Jeremy, have opted for the all-virtual model due to personal learning preferences: "We have to sit so far away from the front and the plexiglass would always block my view, so I find Zoom school easier," he says. Others, like Quilana, would prefer to be in person if not for concerns about family members' safety.
Seniors have the option to attend school all four days, with hybrid students in other grades continuing to attend twice a week, until spring break begins on March 26th. The school will then reassess for April and May.
About the Writer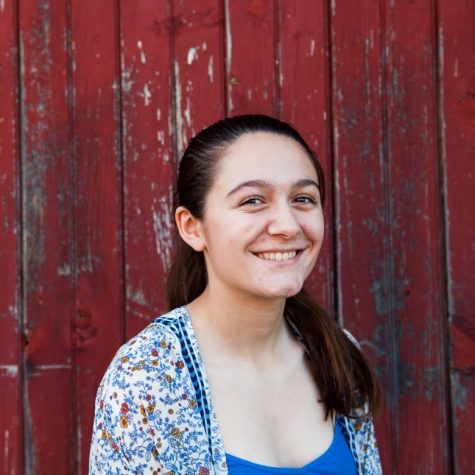 Annie Rupertus, Editor-in-Chief


Annie Rupertus is a member of the class of 2021. In addition to being a class officer, an athlete, and a participant in various social justice-related...